Details

Category: Chiang Mai
Published: 21 August 2014
Hits: 94577

Day 2 was the most happening day as we were traveling to Pai but before that, we had our complement breakfast in Imm Hotel. Our plan was to leave our big luggage in Imm Hotel and only carry two-days items to Pai. We would then return to Imm Hotel on Day 4 and continued staying for another night.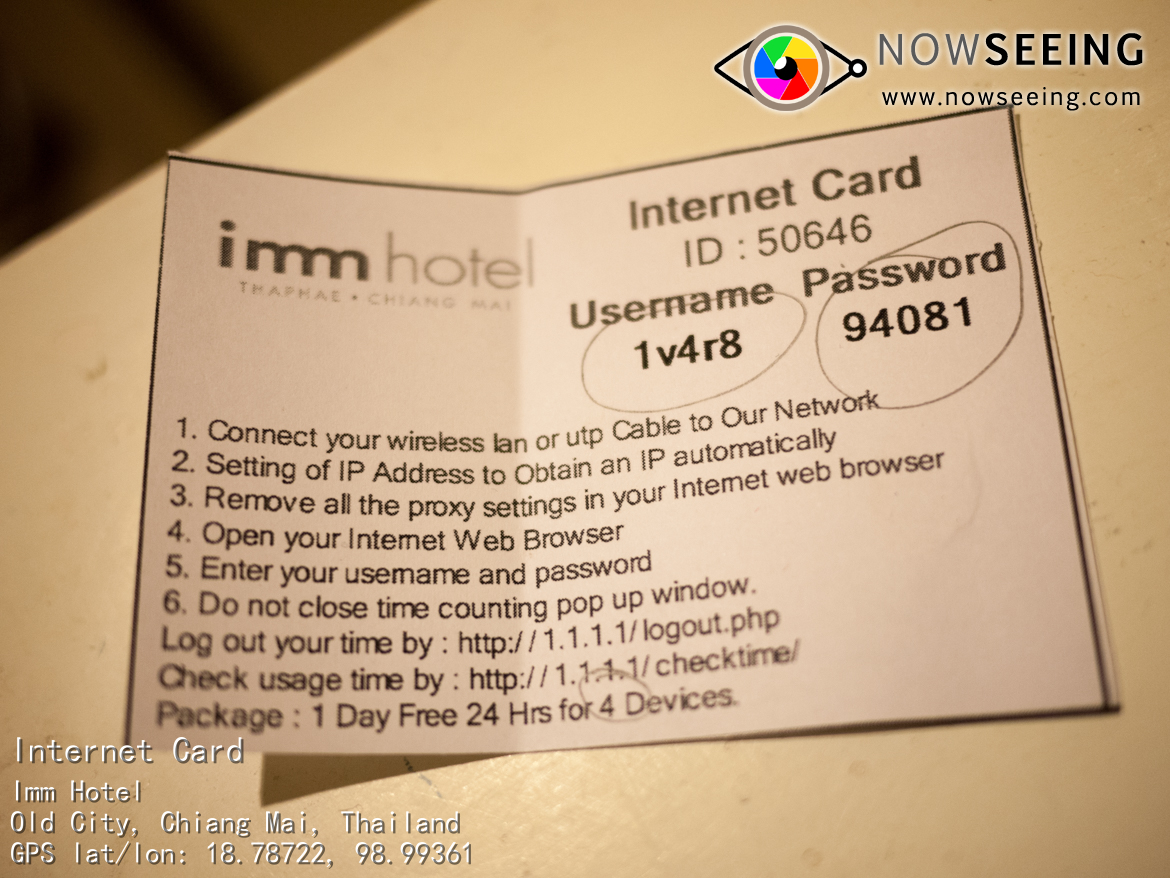 Our first night impression at Imm Hotel was positive. The room, even though looks a bit aged, came with free Wi-Fi, LCD TV, two bottles of complement water, a wash basin outside of the bathroom, and the complement breakfast. The only drawback was that occasionally we heard of motorbike raving in the middle of the night.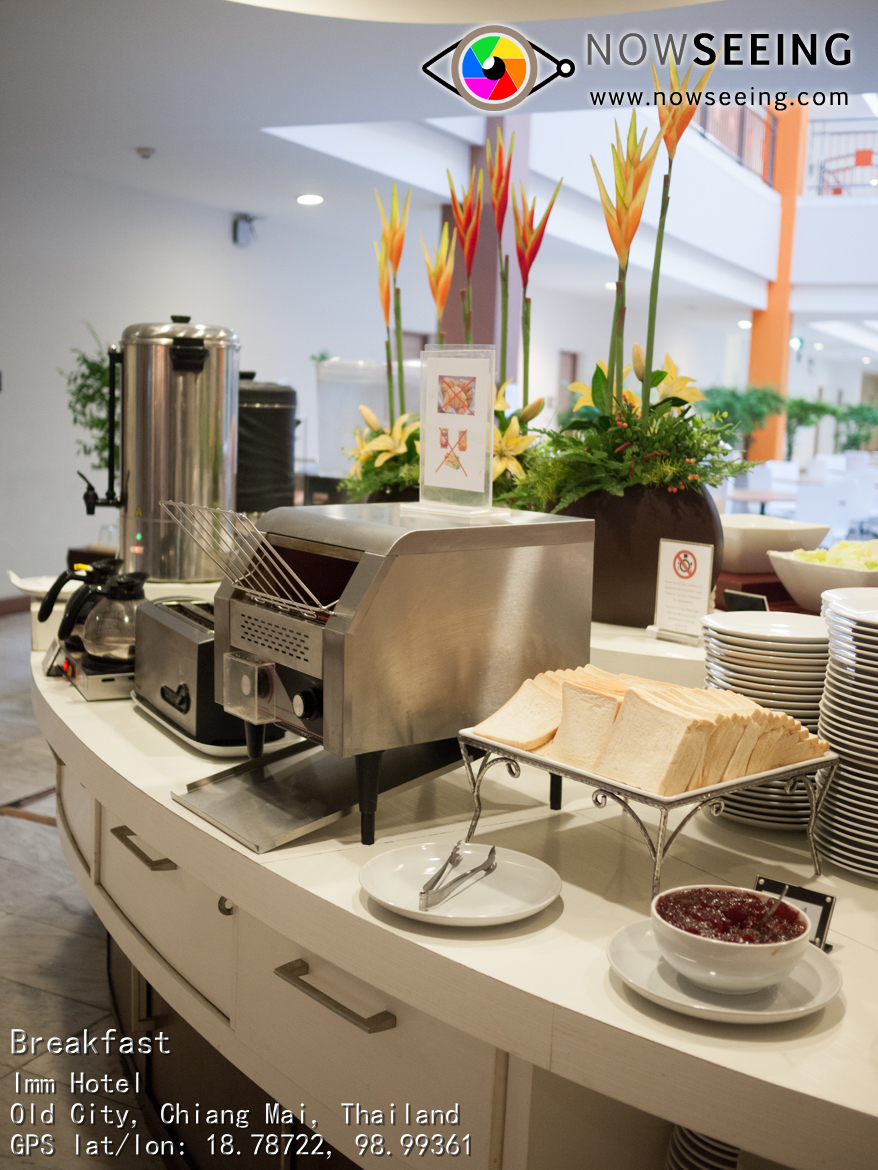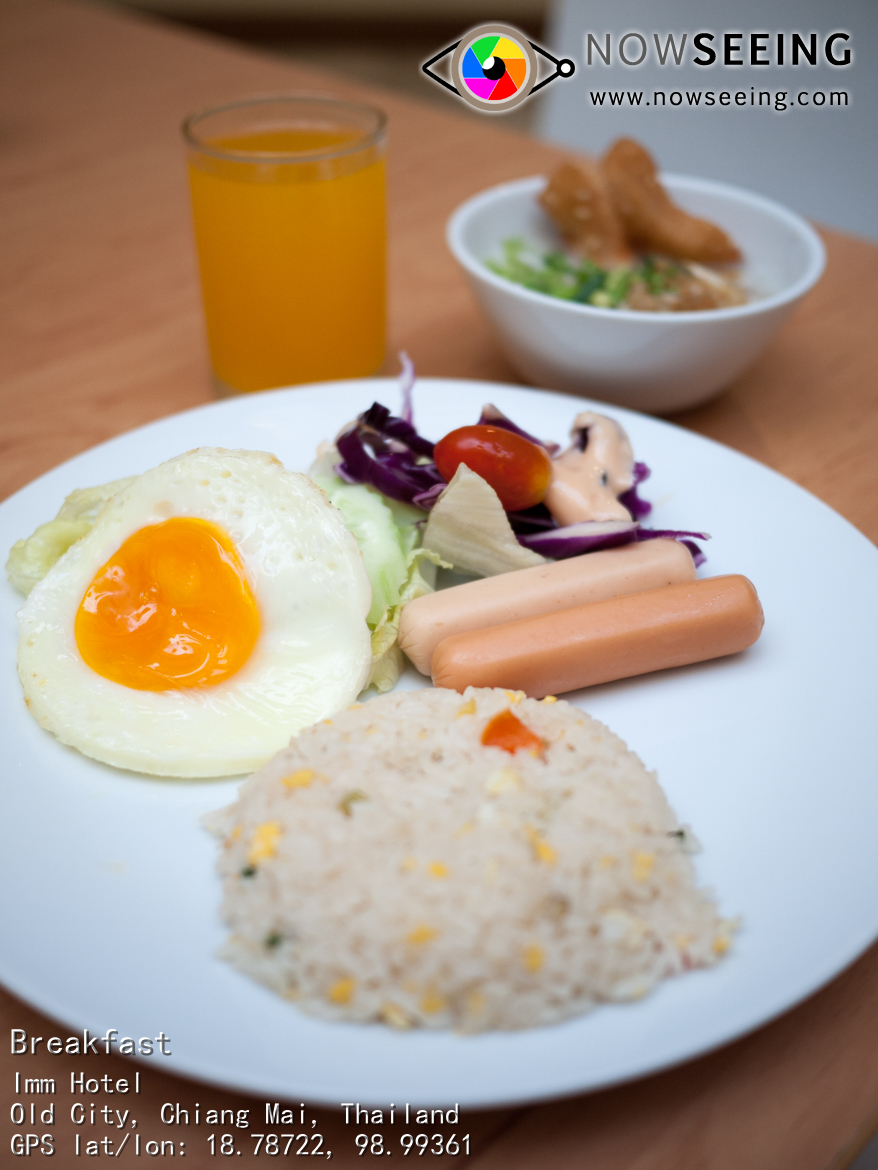 The breakfast started from 6:30am until 10:30am and was pretty standard, including egg, sausage, fried rice, salad, porridge, fruit, and breads.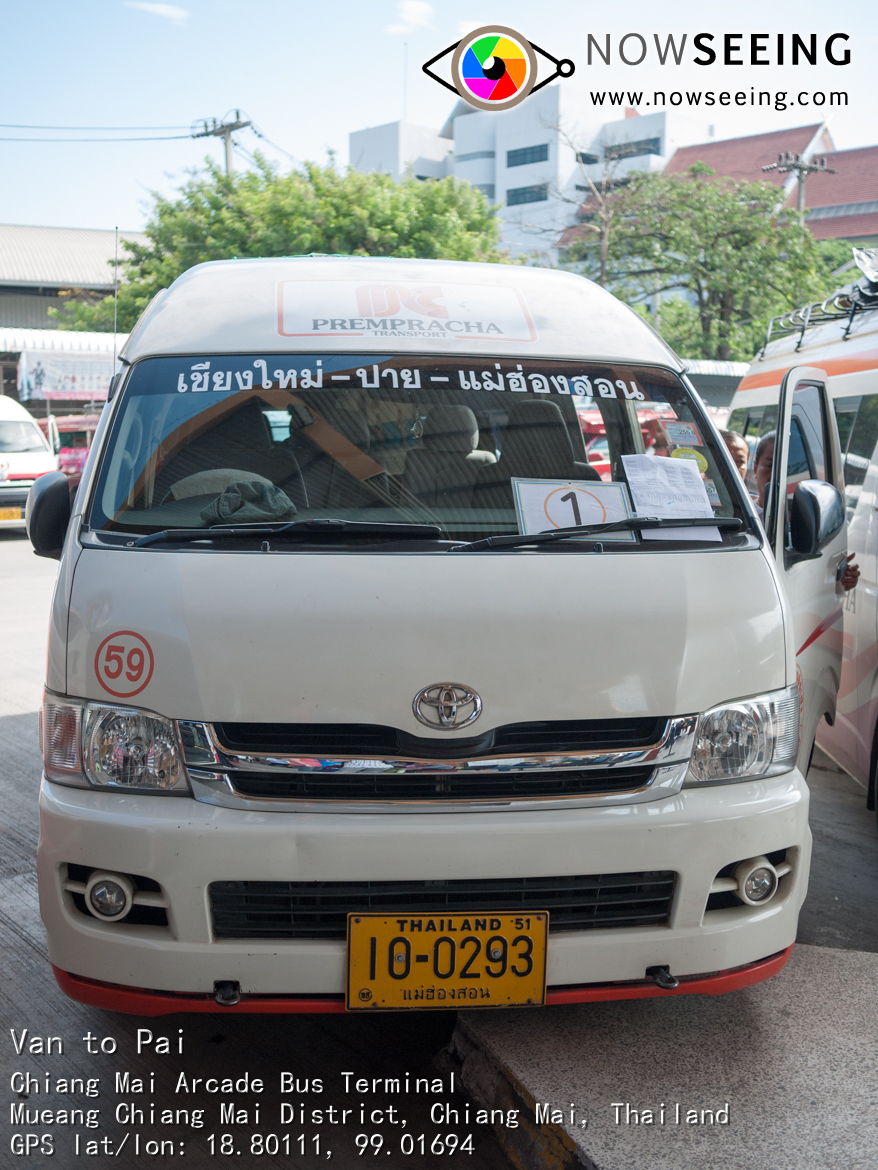 After breakfast, we took a red cab to Arcade Bus Terminal (40 THB per person). Our van was there and after waiting for other passengers to arrive, the van departed. We had been warned with the famous 762 curves along Route 1095 to Pai so each of us took a motion sickness pill. It turned out that the curves were actually not scary at all considering we had encountered worse curves back in Malaysia (such as Maxwell Hill and Jerai Hill). Only one of our passengers did vomit.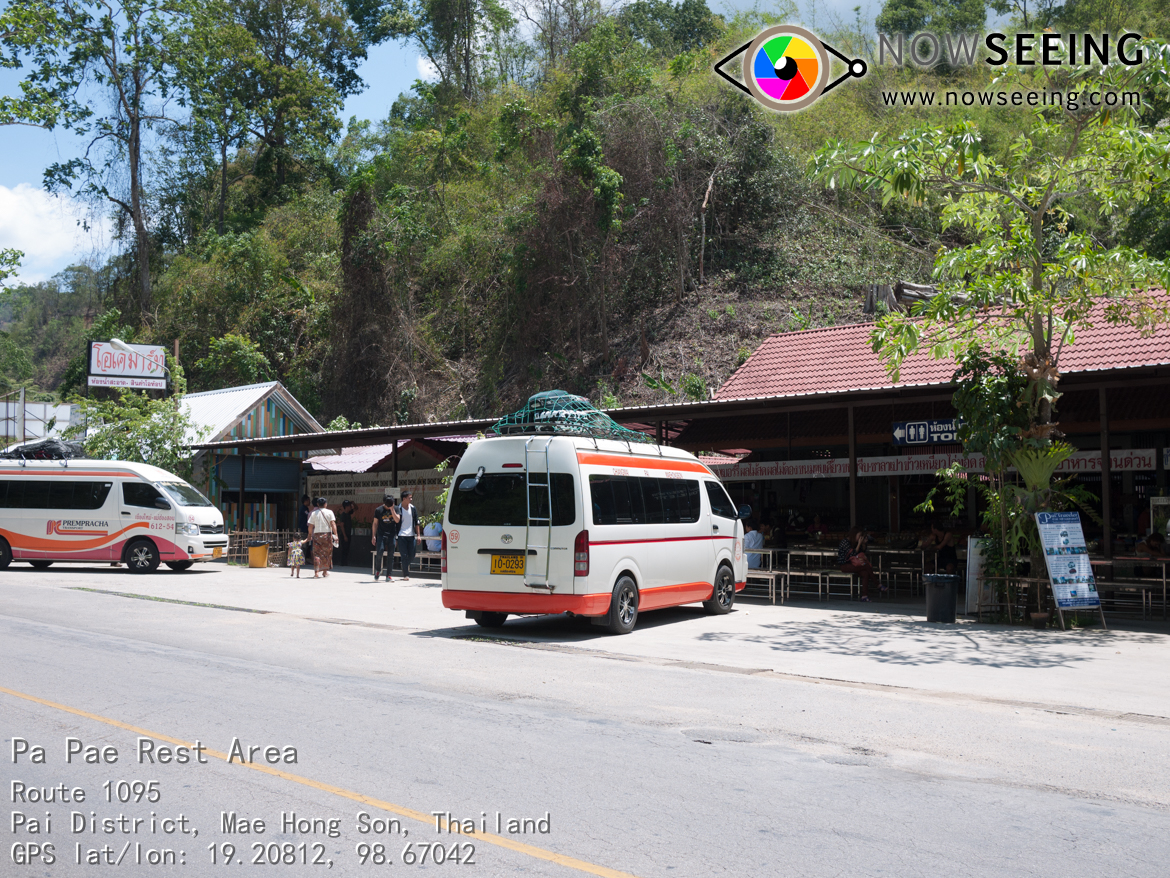 After two hours drive, we stopped by a rest area for toilet and some snacks. Pai is located at another state next to Chiang Mai state called Mae Hong Son. You will pass through a security checkpoint when crossing the state. Also, above Mae Hong Son is another country - Myanmar. Make sure you bring along your passport, especially when returning from Pai to Chiang Mai for security check.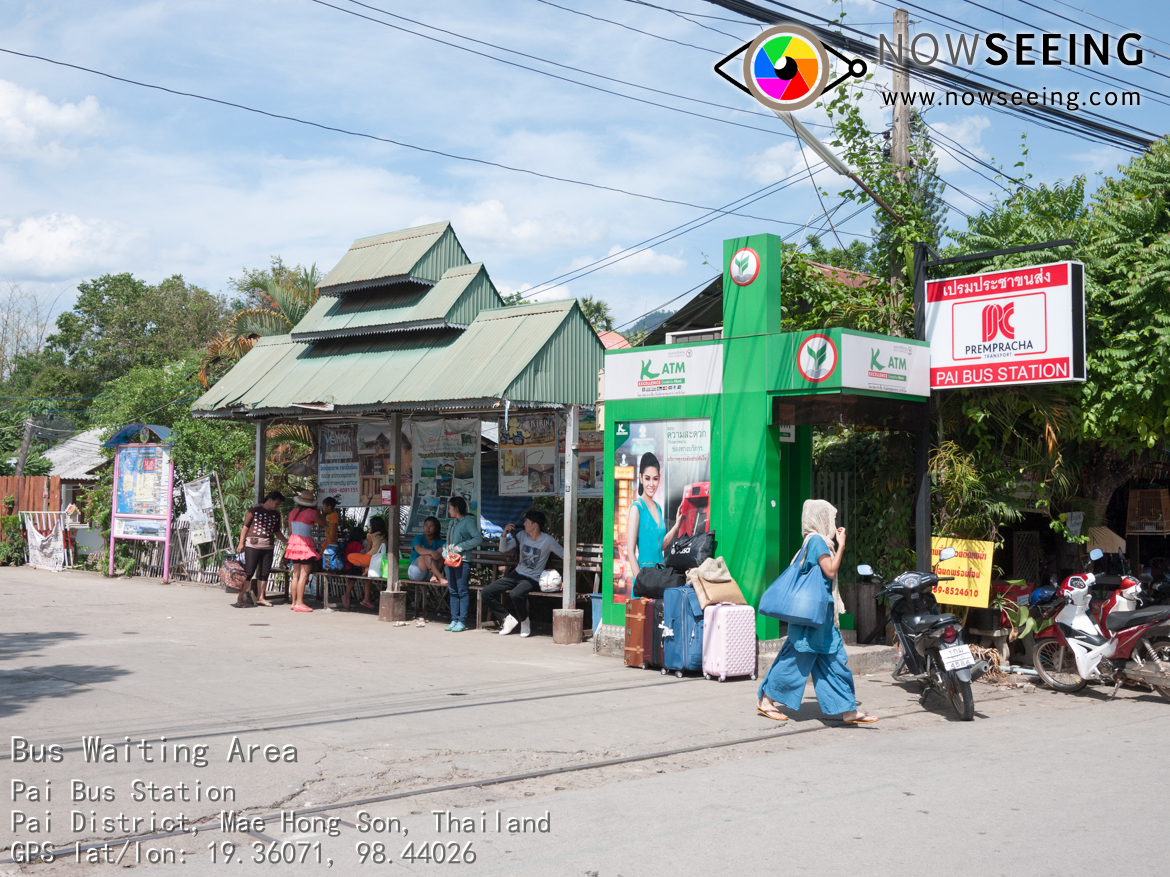 The whole journey took about 3 hours before arriving at the only bus station in Pai. We then carried out two luggage and walked our way to our resort for the first night - Baan Chok Dee Pai resort. We had difficulty to find it at first but after asking locals, we finally found it.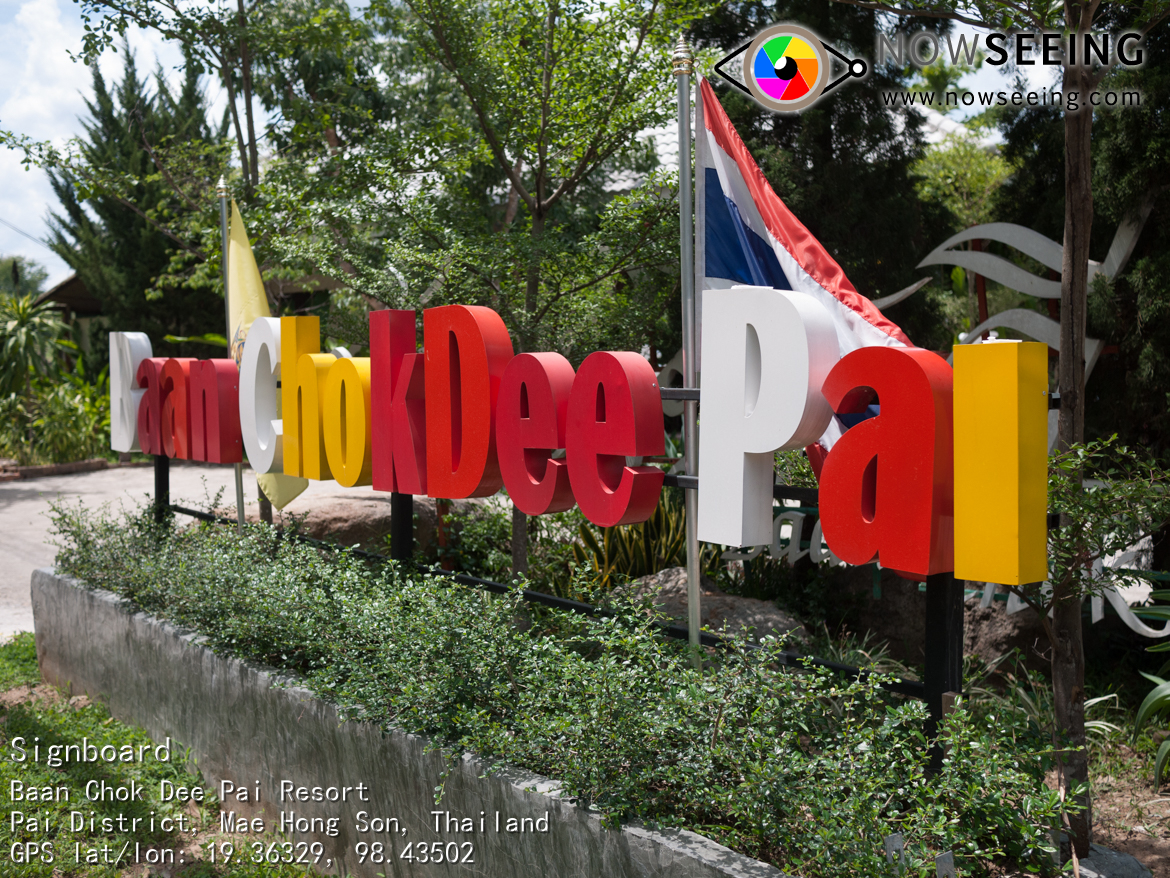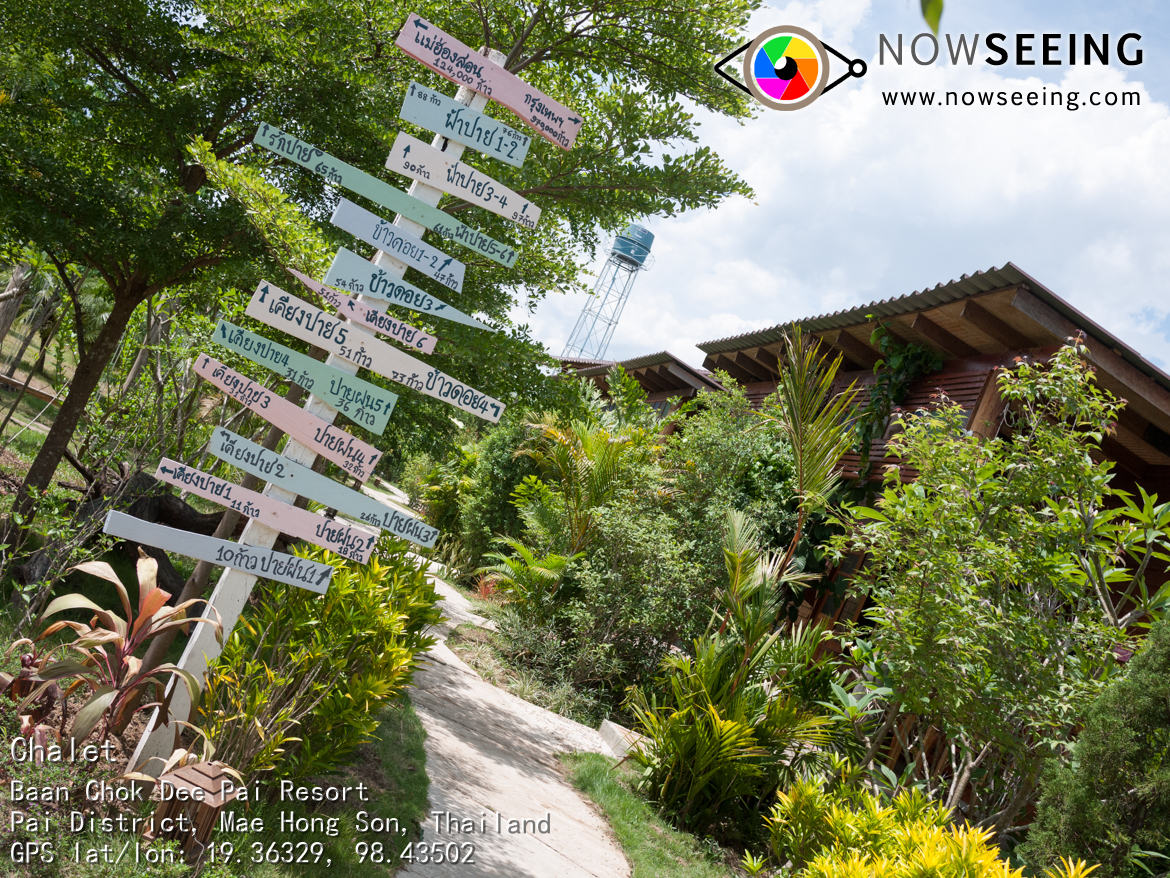 We were greeted by a white guy who later guide us to our "bungalow". To be honest, we were quite shocked when seeing the surrounding area as it was totally different from the official picture in Agoda.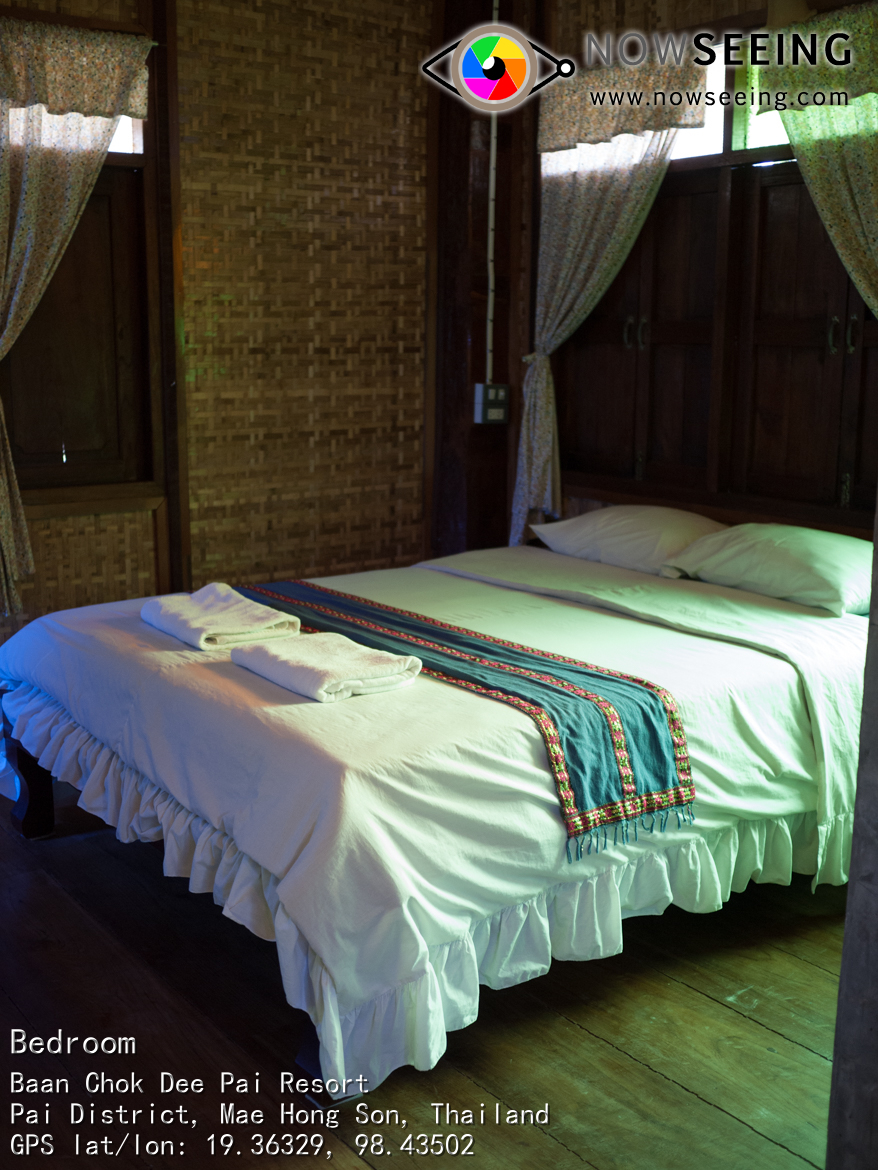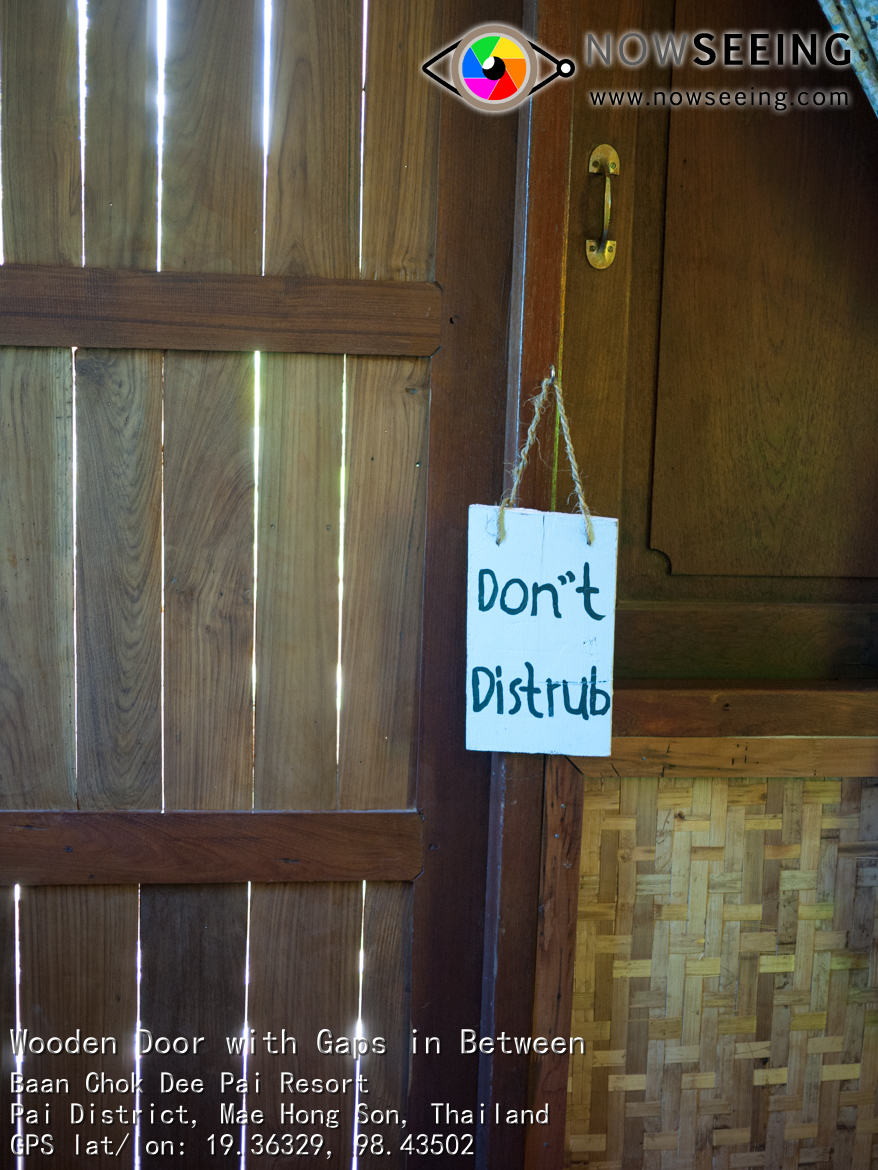 Our "room" turned out to be a standalone wooden hut with wooden floor, wooden door with see-through gap, wooden windows, and partial cement wall. Close to nature but not really soundproof. A mid size fridge, hot shower and air conditioner were available. Reminded me a bit of chalets in remote island which could be a bit creepy at night.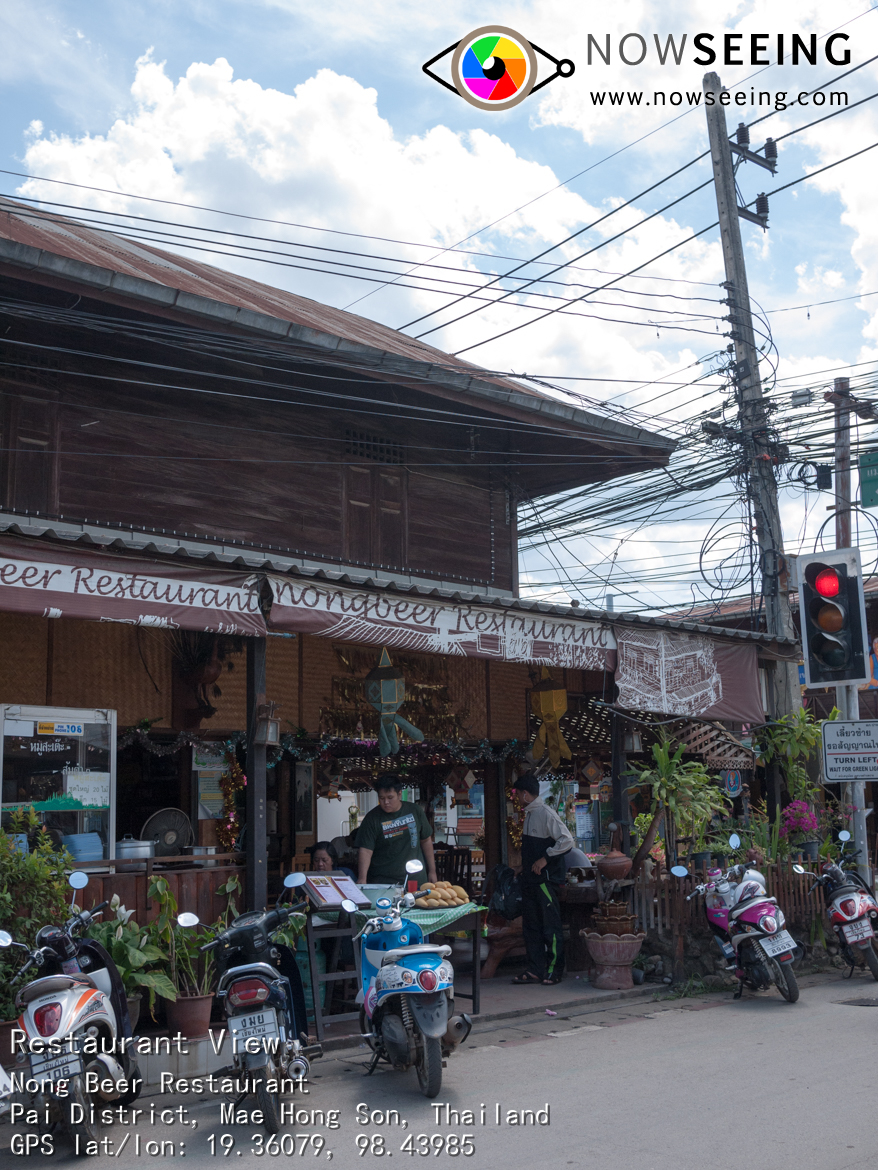 After putting our luggage, we walked all the way back toward the bus station again. This time, we continued further to Aya Service to rent a scooter but before that, we stopped by Nong Beer Restaurant for our late lunch.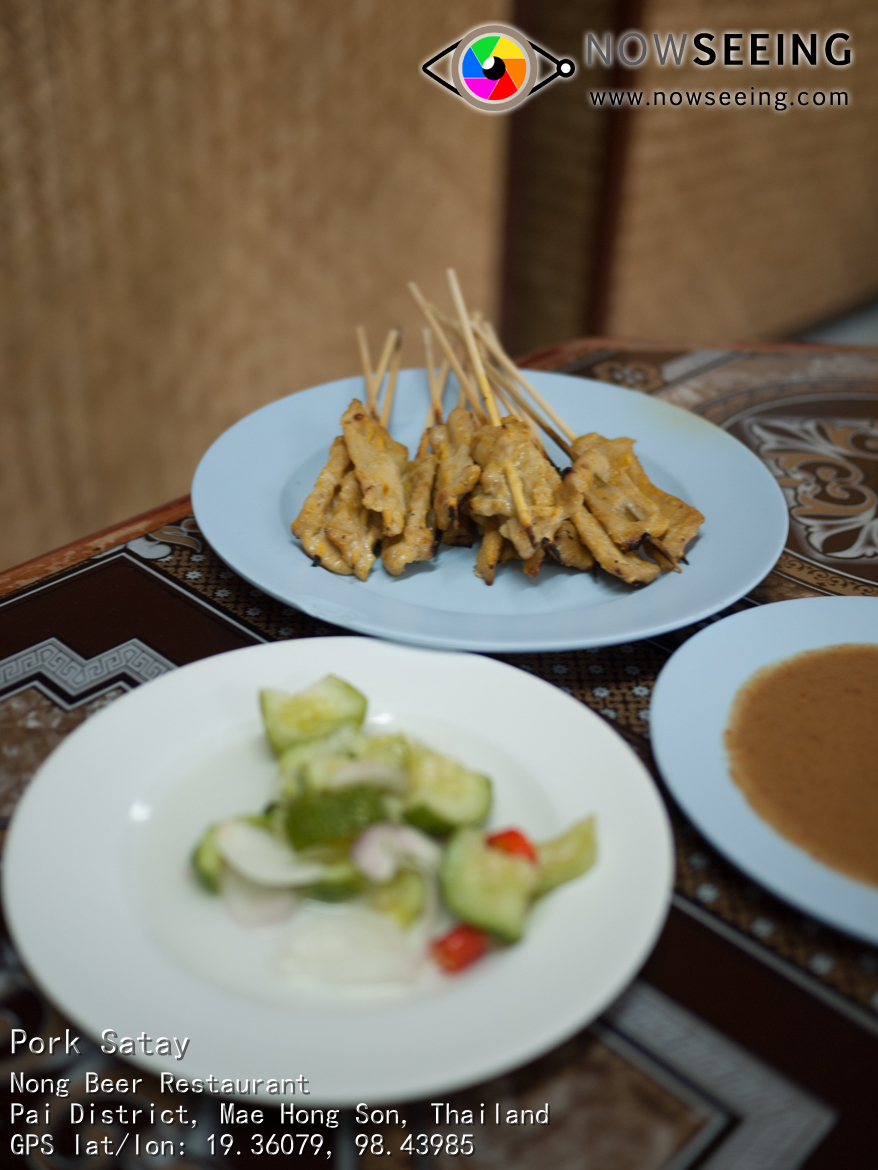 We ordered three items - Kao Soi with Chicken (40 THB), Port Satay (60 THB), Panang Curry Pork with Rice (90 THB). The pork satay (approximately 13 pieces) turned out to be our favorite thanks to the tender meat hardly found in Malaysia, pickled cucumber, and slight cheaper price compared to Malaysia.
We knew about this Aya Bike Rental through Internet. In our opinion, there are other companies worth considering as some of their bikes are quite new. Pricing-wise, it is 140 THB per day for Honda Scoopy. Helmet deposit is 100 THB each. We also purchased Motorbike (40 THB) and Theft insurance (40 THB). Also, you need to deposit your passport there. We had difficulty in choosing a scooter as all of them were badly scratched. An impatient staff finally recommended us a blue Honday Scoopy. Honestly, that was my first time riding motorbike after getting a motor license decade ago. Before riding it with my friend, I decided to familiar myself with the bike first by circling the town at least once. Here are few tips for newbie like me:
To start engine, insert the key. Hold left lever and press ignition switch on right.
To accelerate, SLOWLY rotate the right handle towards you. This is not a video game.
Left lever = rear brake. Right lever = front brake.
To brake during normal condition, pull left lever first followed by the right one. For emergency brake, pull on both levers. Do not apply throttle when braking.
To turn on signal light, push the switch to left/right respectively. Note that it won't auto-turnoff after taking the turn nor with buzzer sound. You need to PUSH the switch to turn the signal light off. 
Try not to apply brake when making a turn. Do it before turning to reduce speed. If brake is still needed when turning, use only left lever (rear brake).
You can keep your helmet in the compartment beneath the seat.
To open the compartment, you need to insert the key. Turn the key to the middle and pull the compartment lever.
You will be at advantage if you know how to ride a bicycle and driving a car.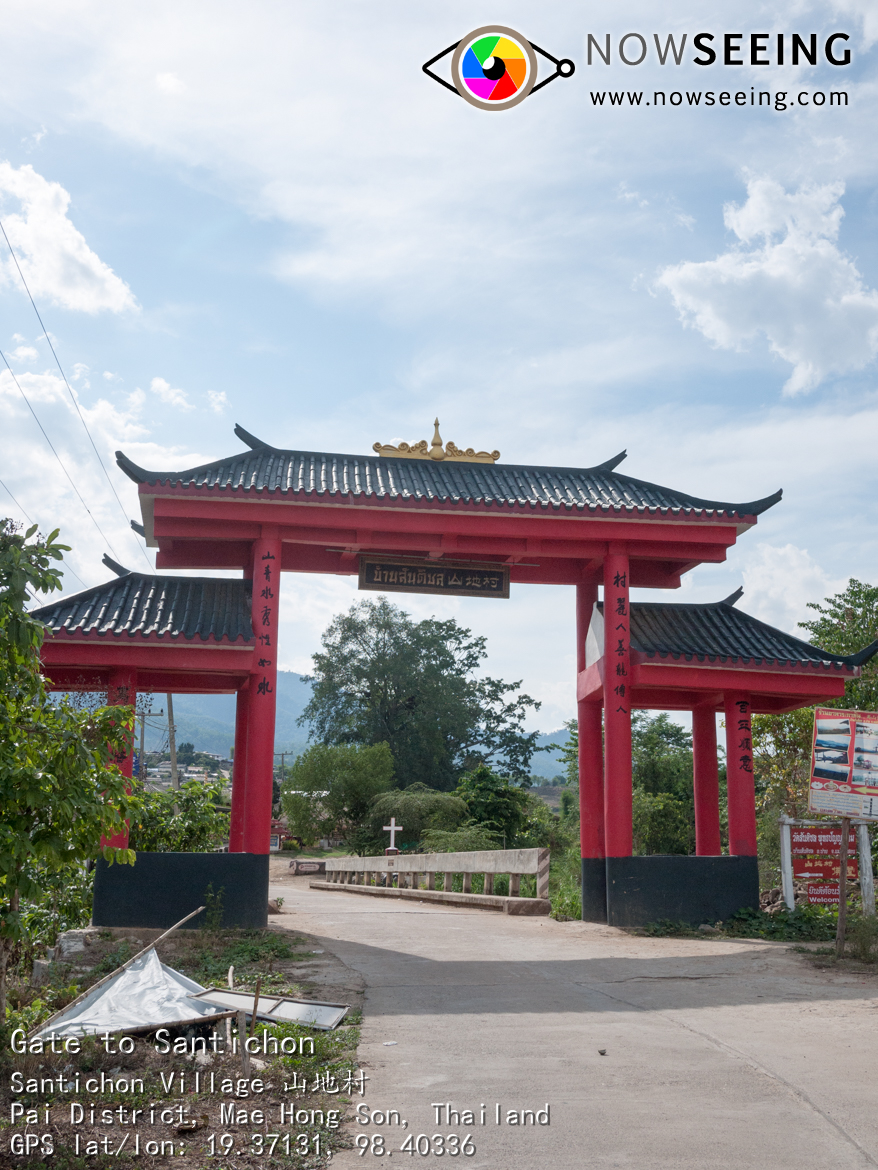 With our little lamb, we could go anywhere we liked. Our first stop was Santichon Village 山地村. It was a Chinese village with some tea houses and a little castle.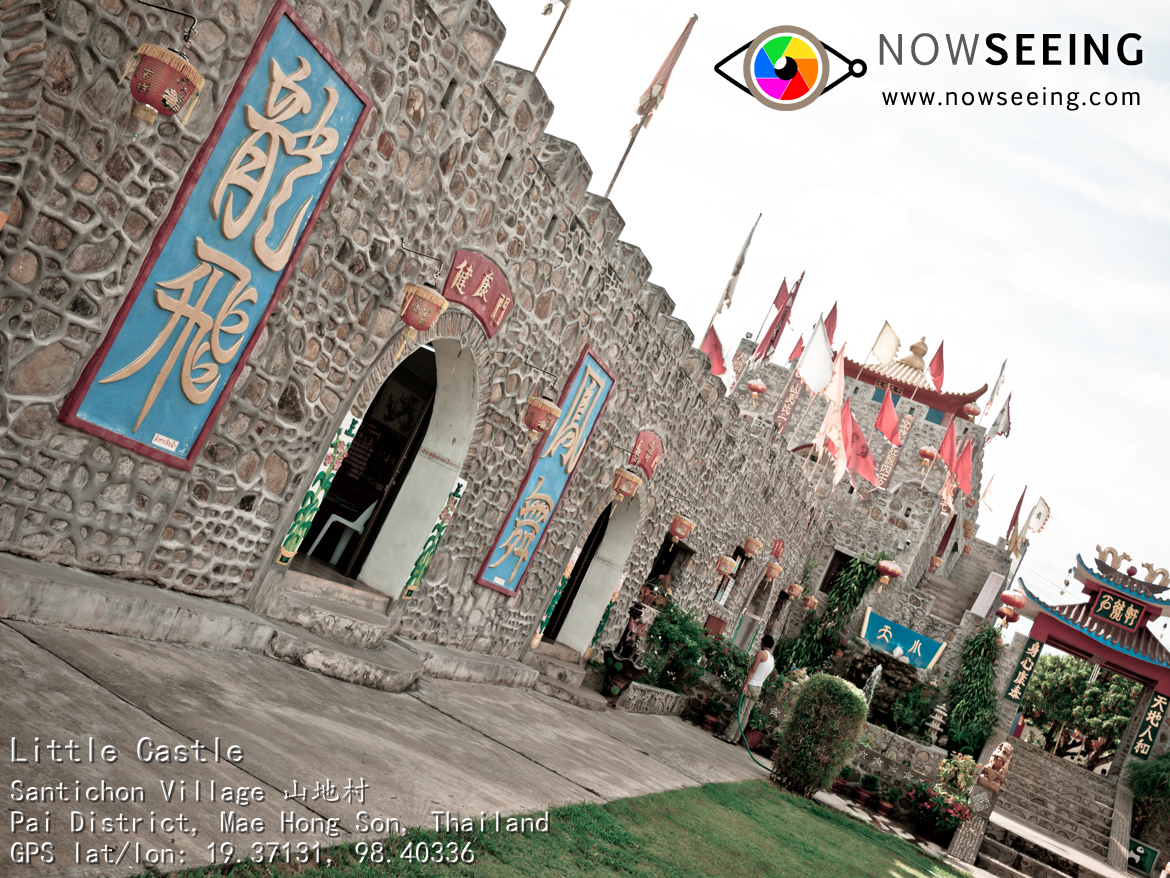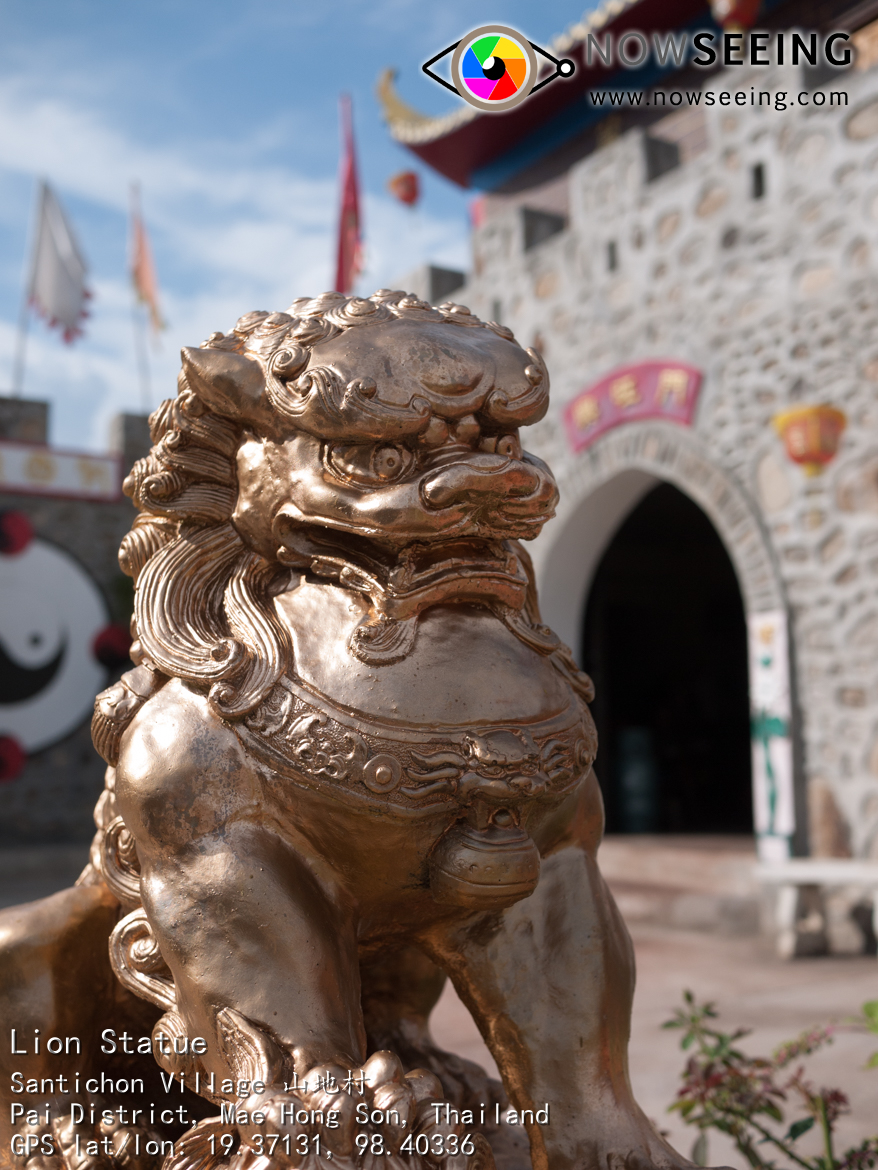 You can climb all the way up to the top of little castle to have a breathtaking 180 degree view of the village.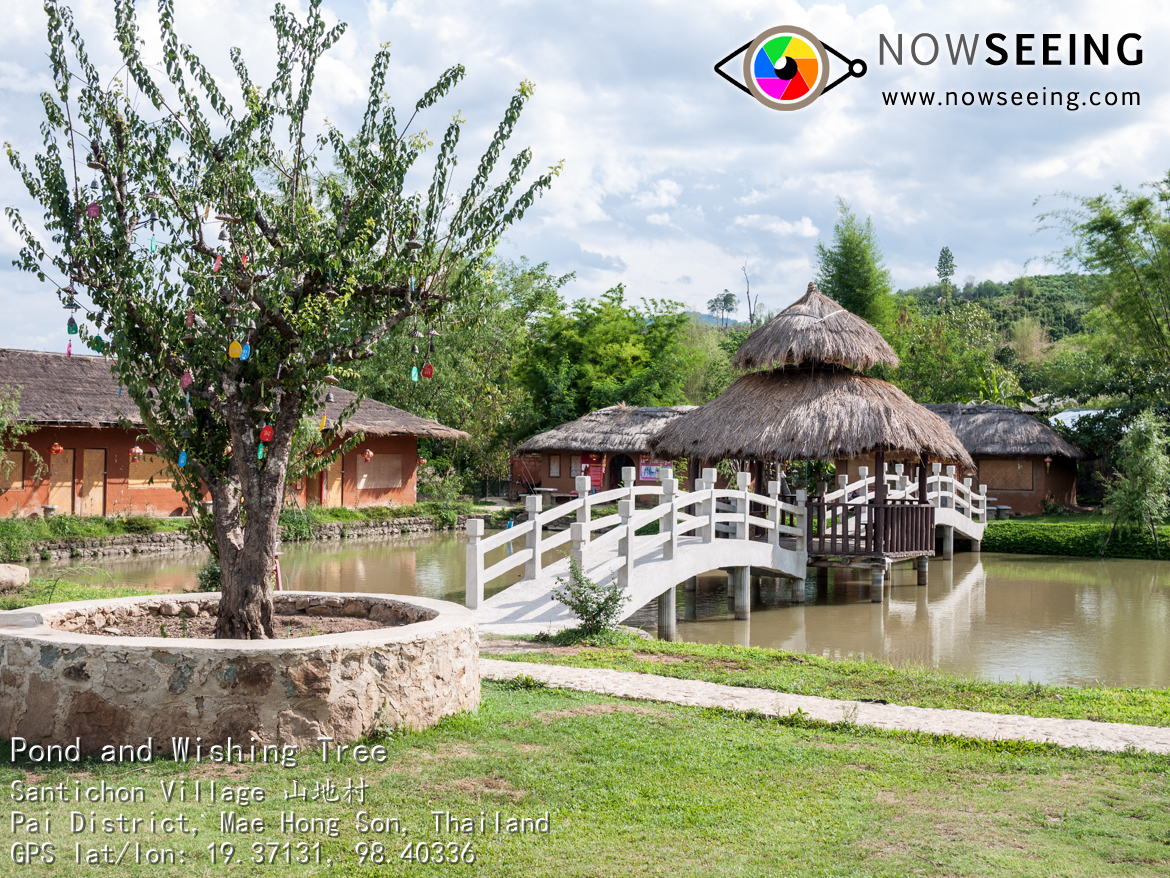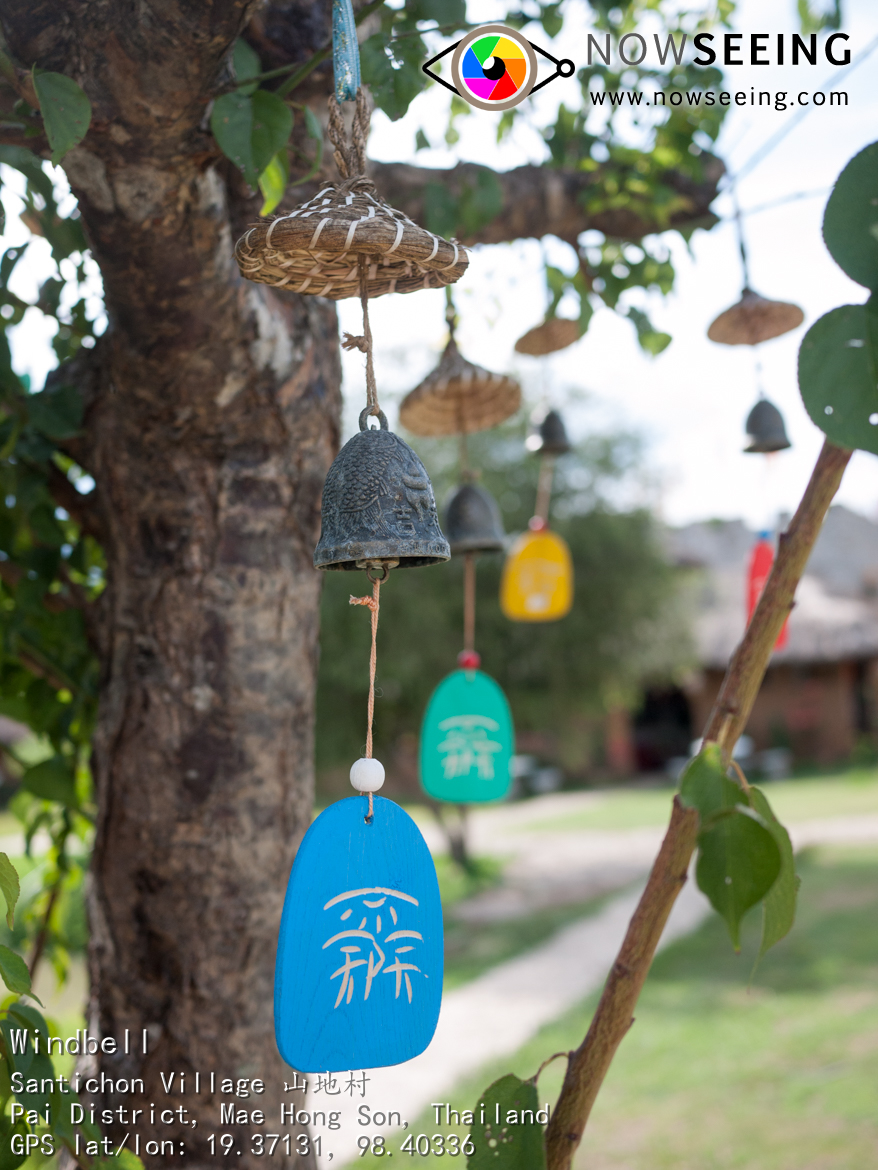 This village was believed to be a Chinese refugee camp for nationalist soldiers who fled from Yunnan to Pai during Chinese Civil War. From the world map, Yunnan is the province located at the far southwest of China, right above Myanmar and Laos. This explained why they were able to flee to Thailand back in old time.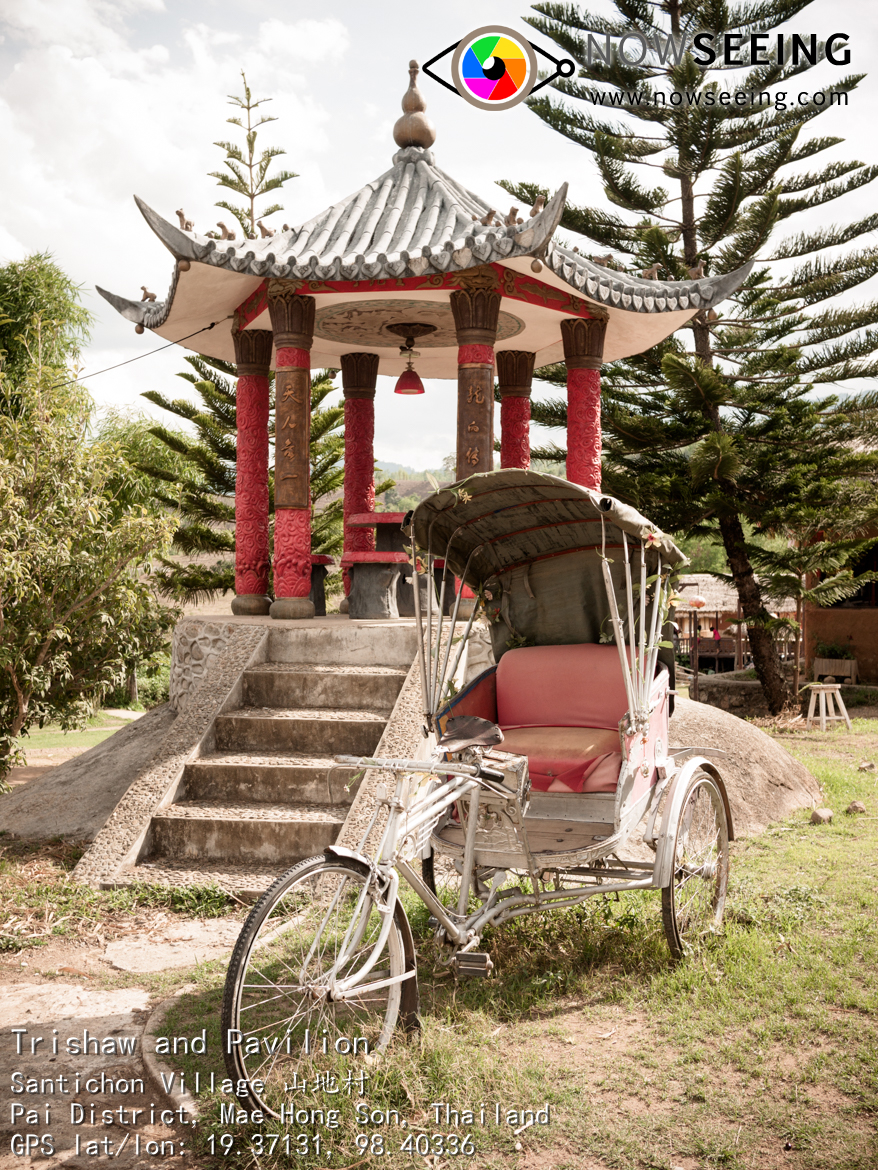 Now, Pai becomes home for about 2,000 Yunnan refugees.

The village was quite peaceful during our visit and we stopped by a tea house to purchase two bags of Chinese tea before continuing further to Yun Lai Viewpoint 云来观景点.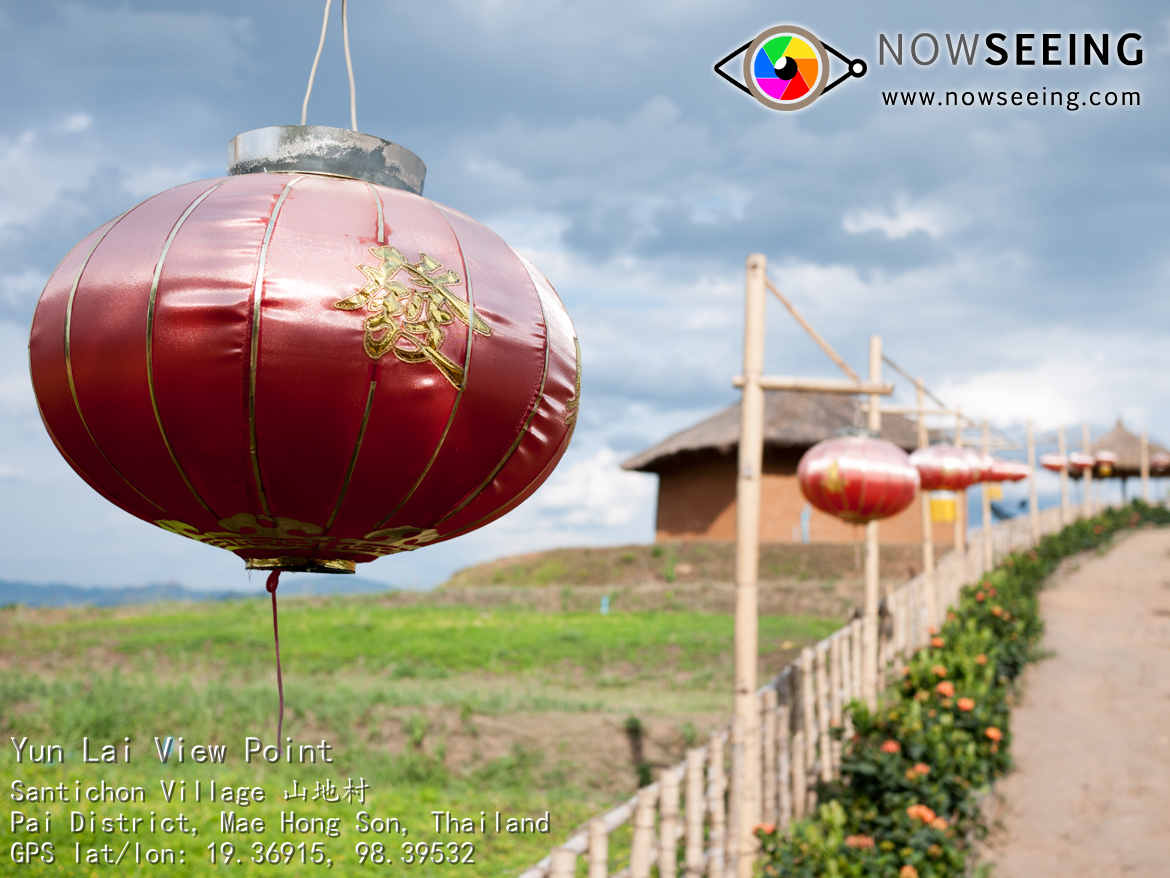 It took some effort for my little lamb to climb up the steep and bumpy road to the view point but the result was rewarding.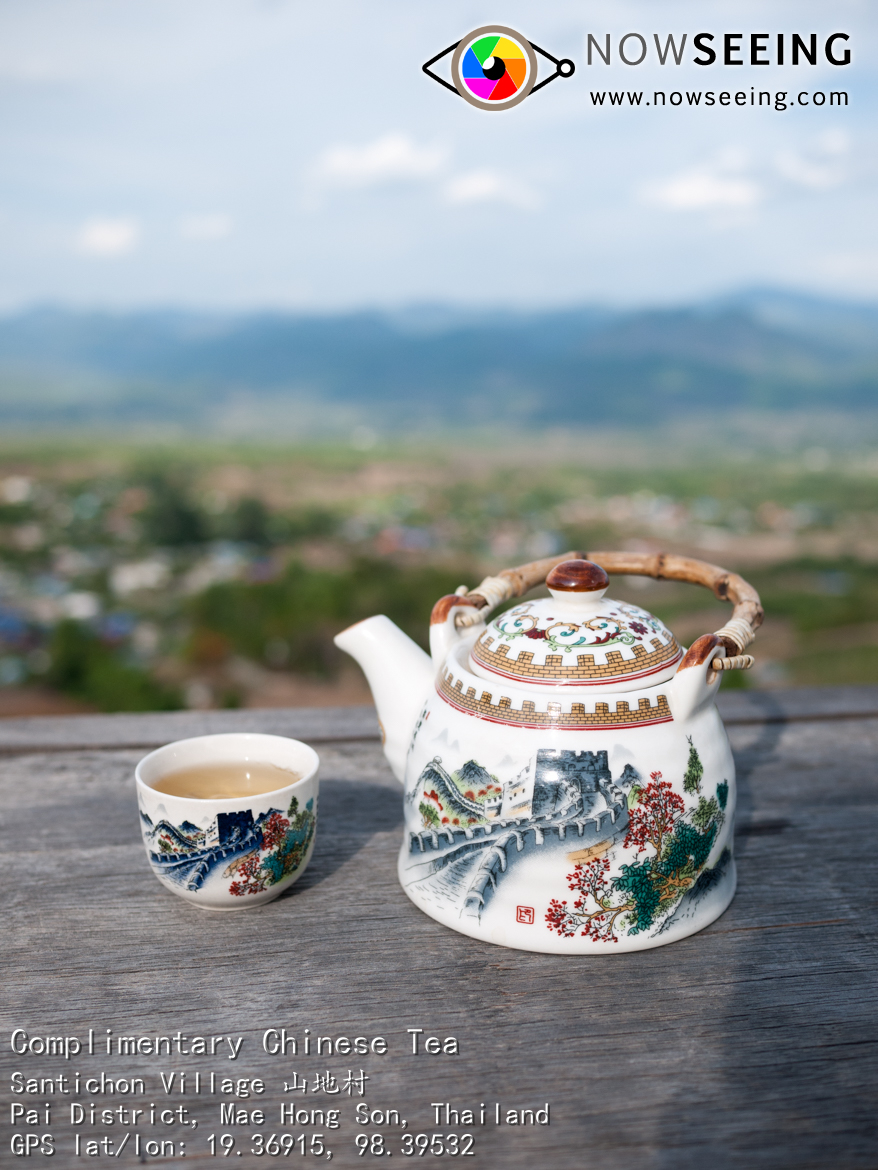 The entrance fee was 20 THB per person and in return, we were given a tea pot containing Chinese tea with free refill. Free banana was available as well but too bad it was not ready to eat yet during our visit.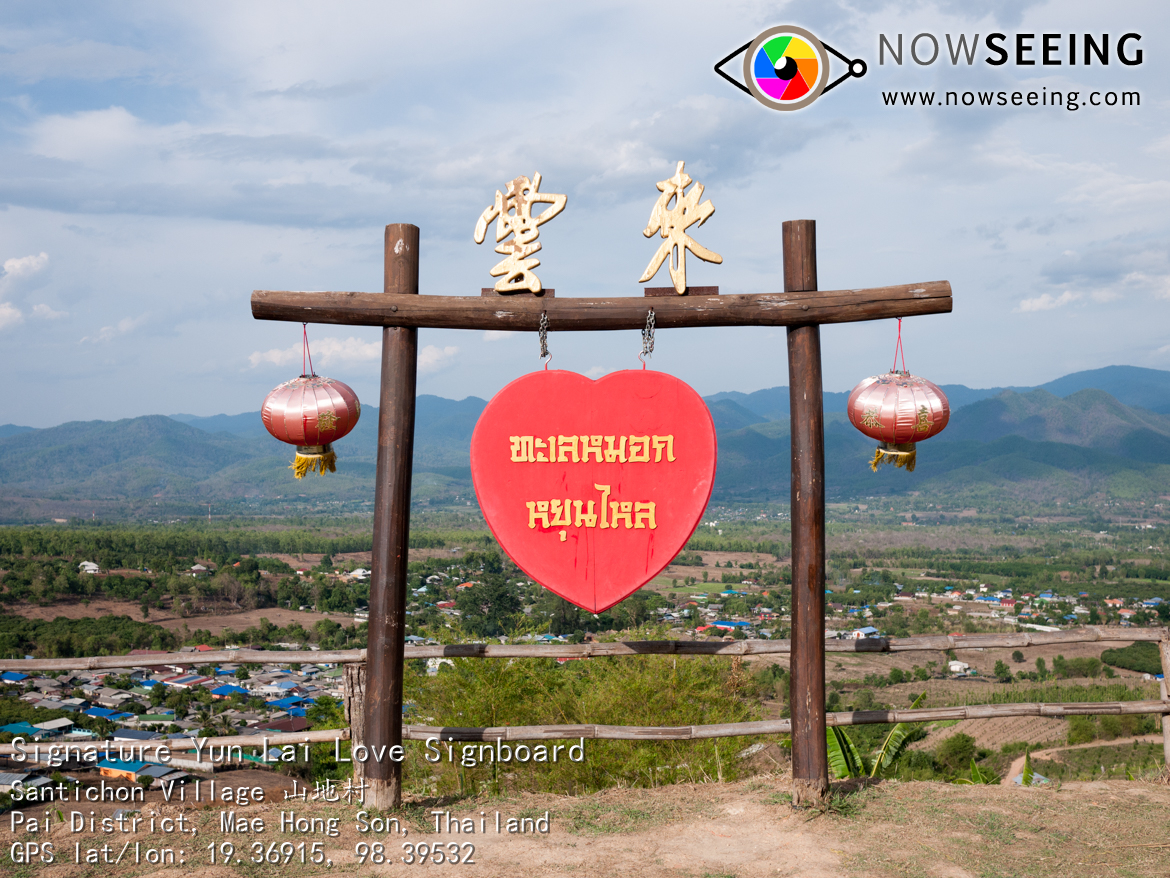 Best of all, you can bring along the teapot and sit next to the cliff to enjoy 180° view of Pai. This is the place where you can sit all day to relax yourself.

The view was breathtaking. From here, you will notice that Pai is actually being surrounded by waves of hills. Temperature-wise, unfortunately, Pai was still pretty hot and dry in the middle of the year.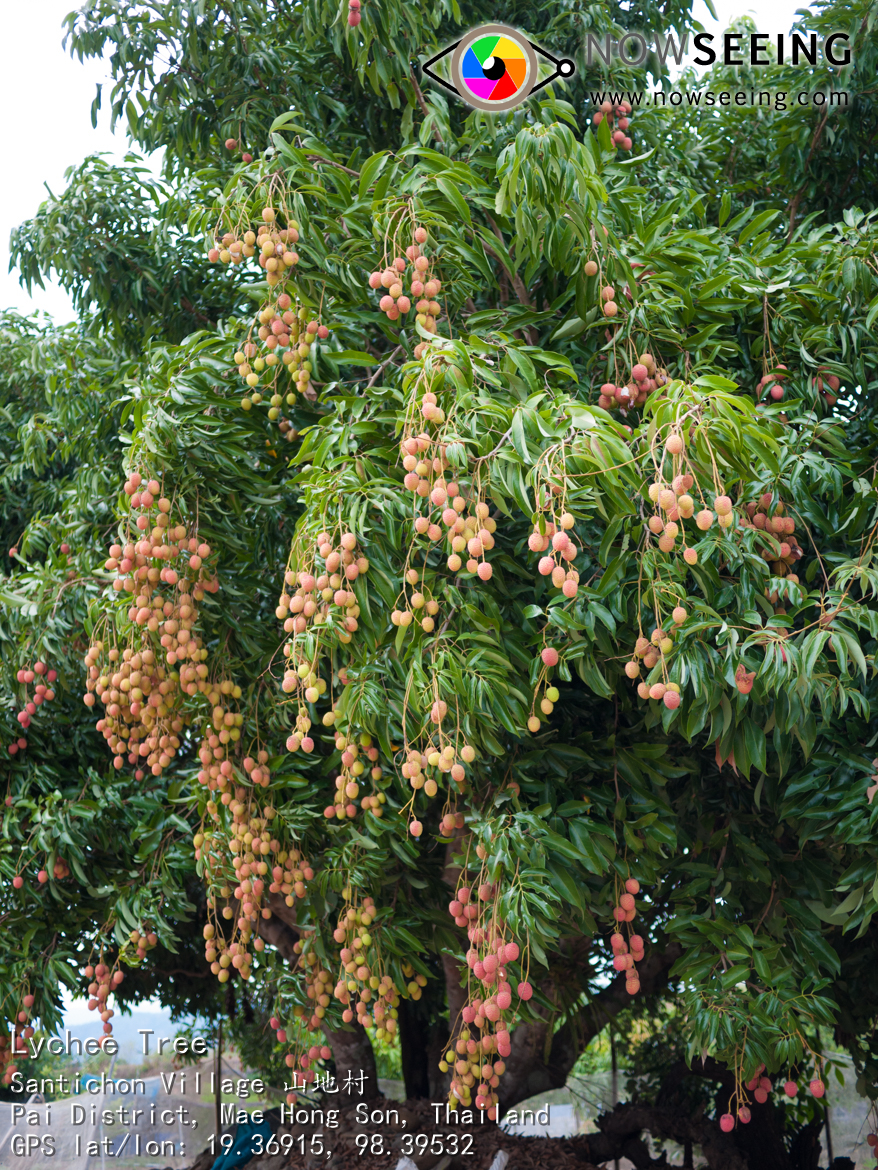 We noticed a big dark cloud approaching so we quickly went back to Pai town. When descending, we noticed many Lychee trees. When we was at Yun Lai View Point, there was even one truck of fresh Lychee ready for distribution. We believed that some Lychee in Thailand was from this Santichon Village. 
At first, we planned to search for waterfall but after driving for a while, we couldn't find the entrance. Our fuel was nearly empty so we decided to head back to Pai town. We had our little lamb refueled at a fuel station (GPS: 19.355300, 98.437162). A full tank only costs about 80 THB.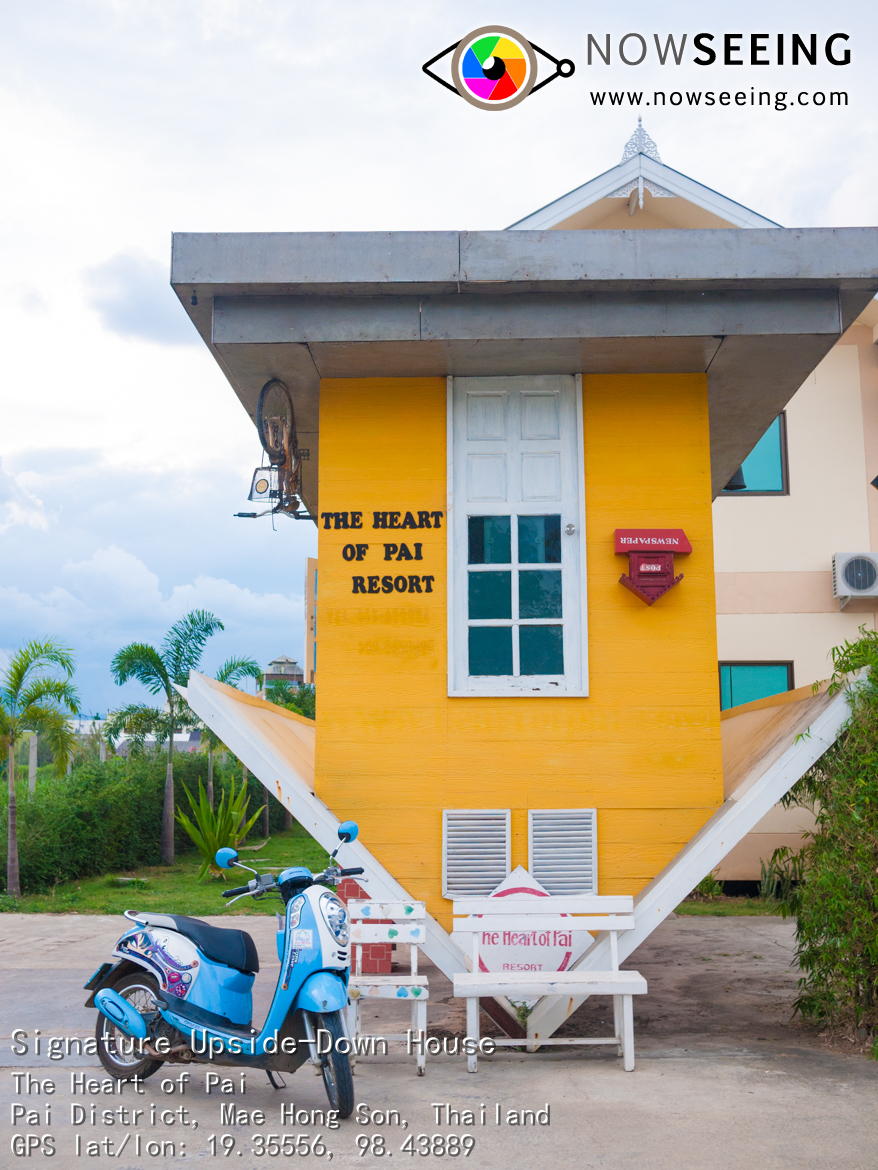 We decided to venture around Pai town before heading to night market. Our first stop was "The Heart of Pai" signature upside down house which was not far from fuel station (Turn right from fuel station. GPS: 19.355666, 98.438928). The Heart of Pai is a 3-star hotel which was in our list as well.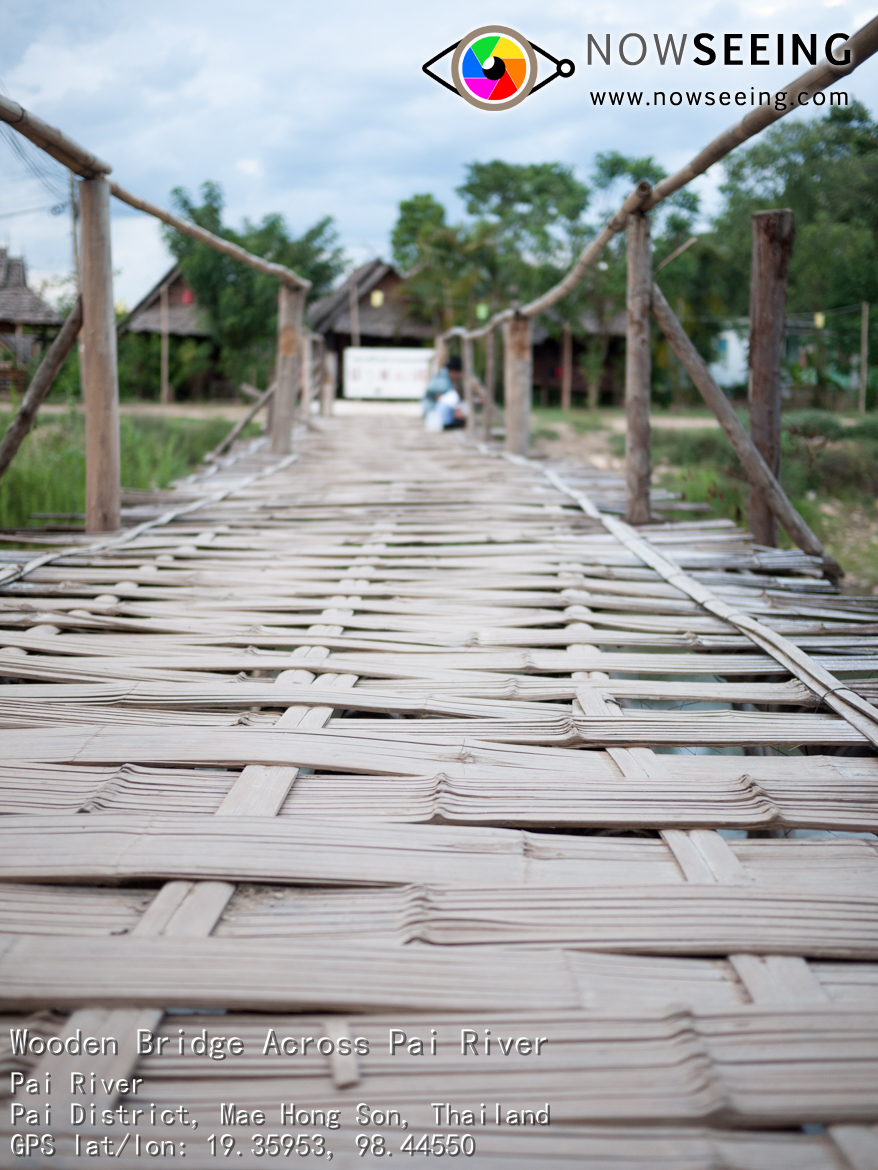 Our next stop was Baan Pai Riverside resort (GPS: 19.359471, 98.445757) - another hotel located at the end of Pai walking street. To reach it, you need to walk across a wooden bridge on Pai river. Pai river is the main river flowing from north to south and across Pai town.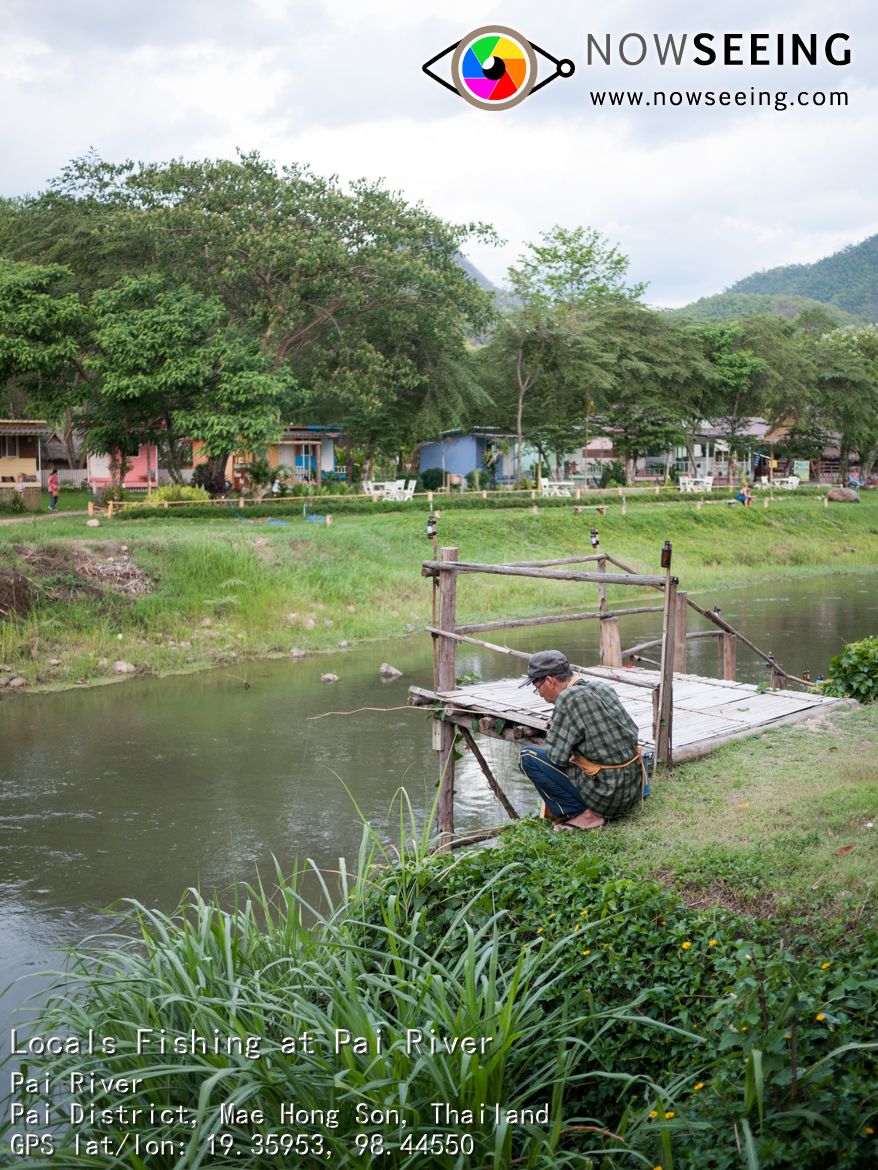 Some locals were fishing on the wooden bridge during that evening. In my opinion, Pai life is quite relaxing.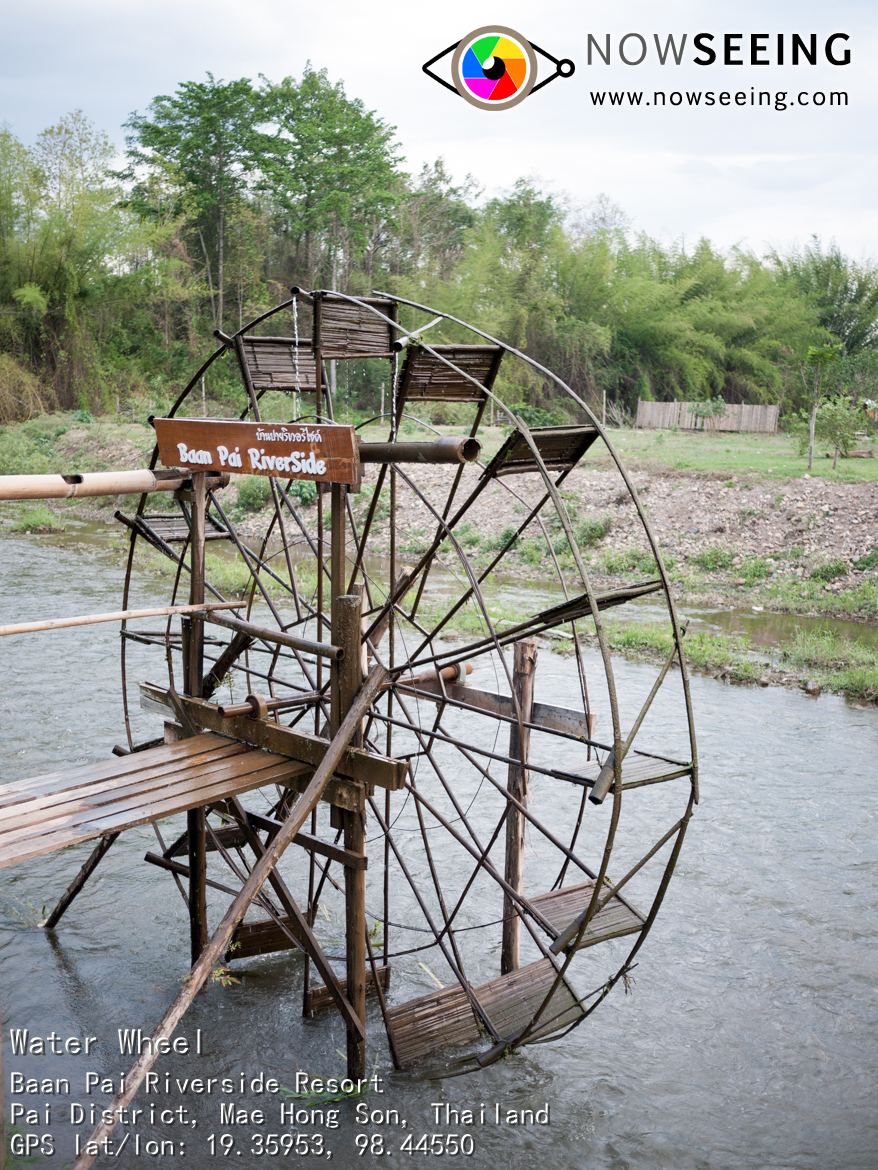 As the name applies, Baan Pai Riverside is located at riverside and has a traditional water wheel fetching fresh water from the river.
It has its signature chalets of different colors.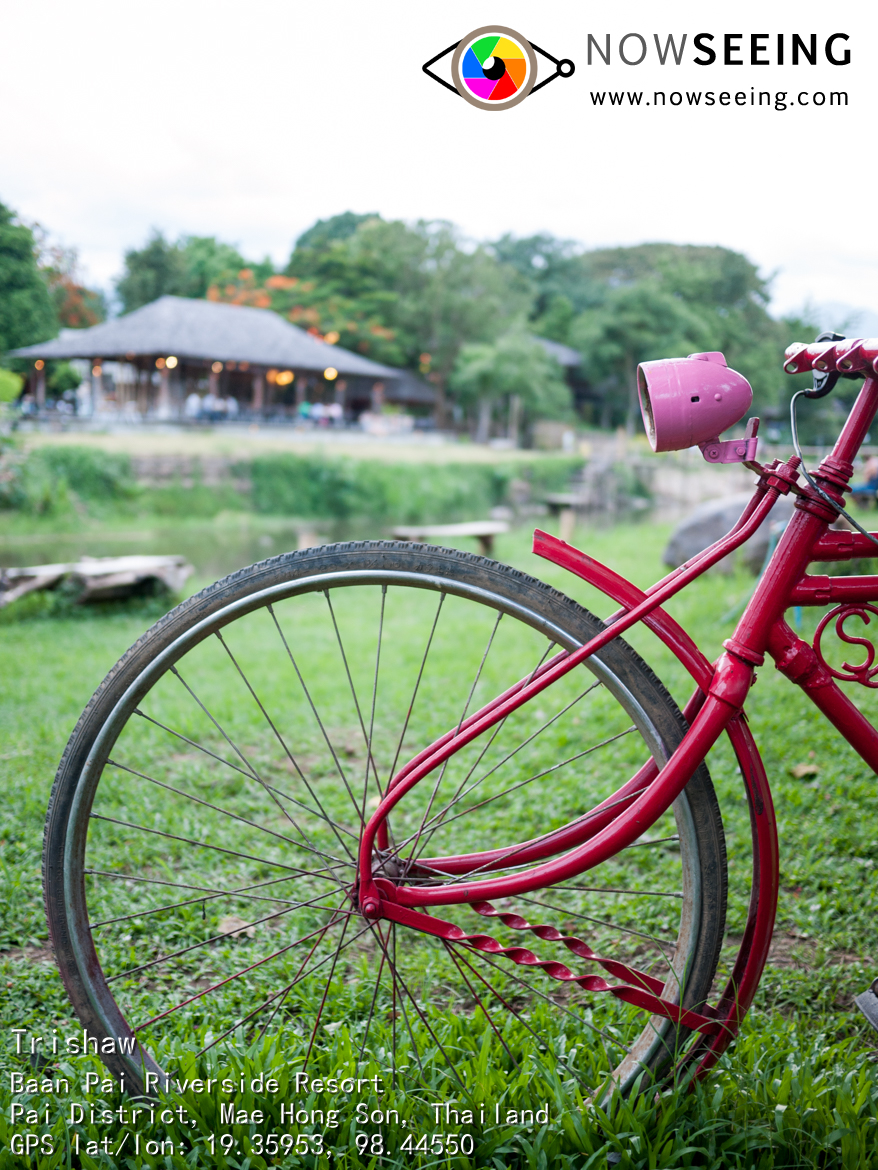 Some decors are also available around the resort. Definitely a good place to walk around in the evening.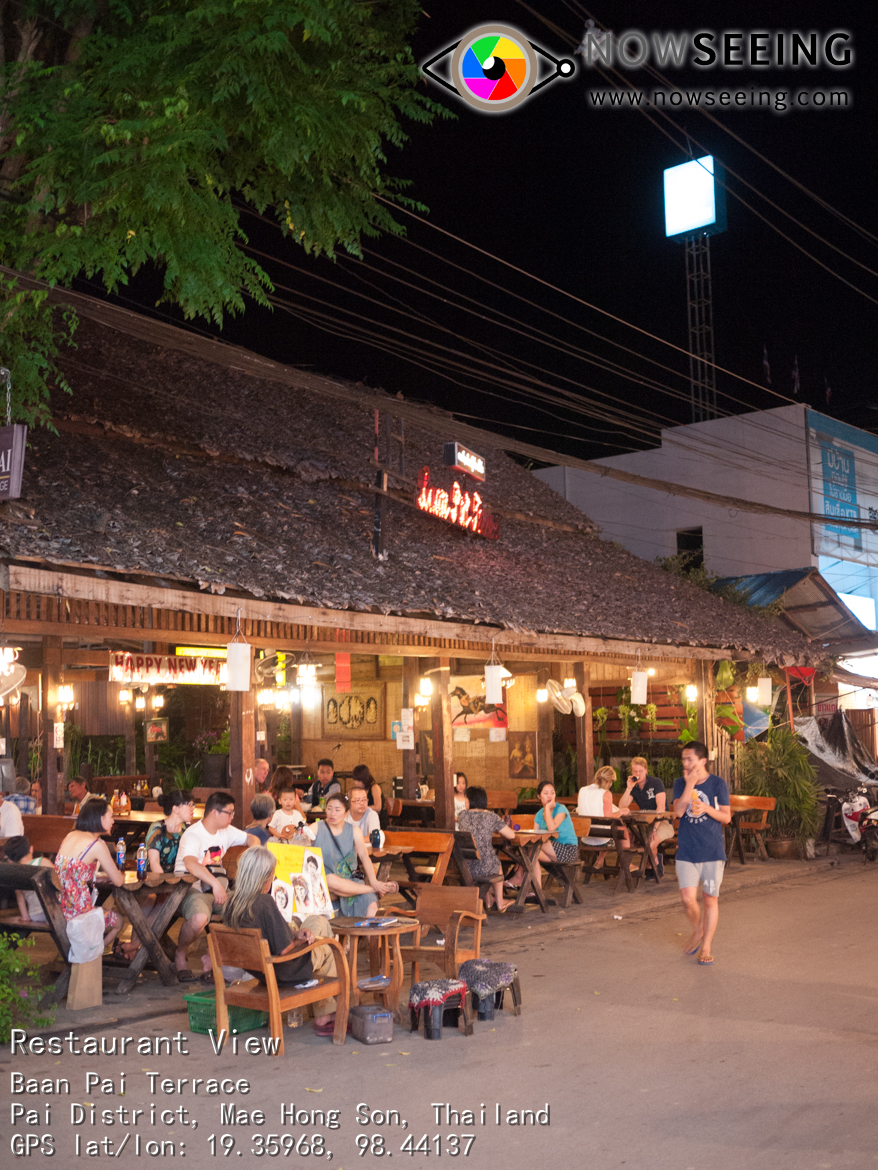 It was around 6:30pm and the sky started getting dark. We went back to walking street and started looking for dinner. We stopped by a restaurant called Baan Pai Terrace.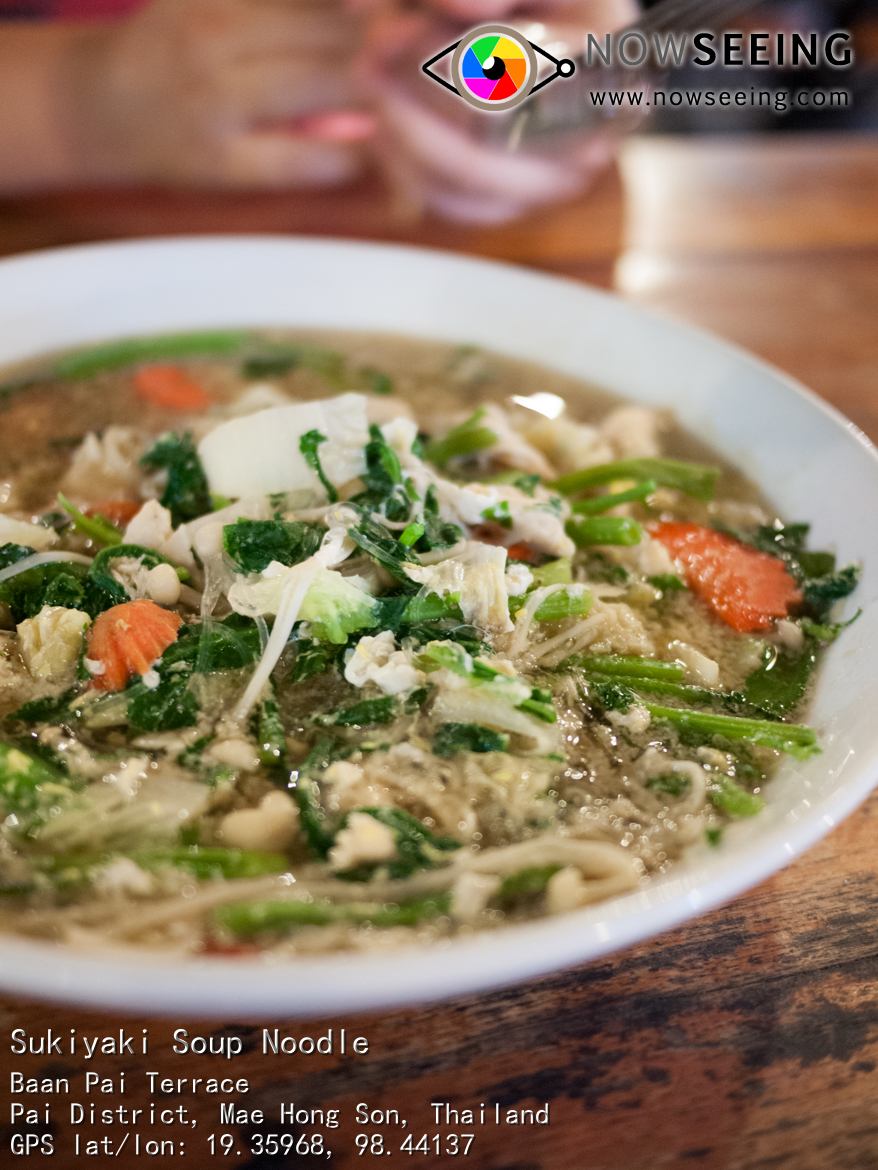 The menu has both western and Thai cuisine and I accidentally ordered a chicken grilled in Western style. No way I am going to travel thousand miles to enjoy a cuisine I can get it in my hometown. Anyhow, another food we ordered - Sukiyaki Soup Noodle (50 THB) was nice.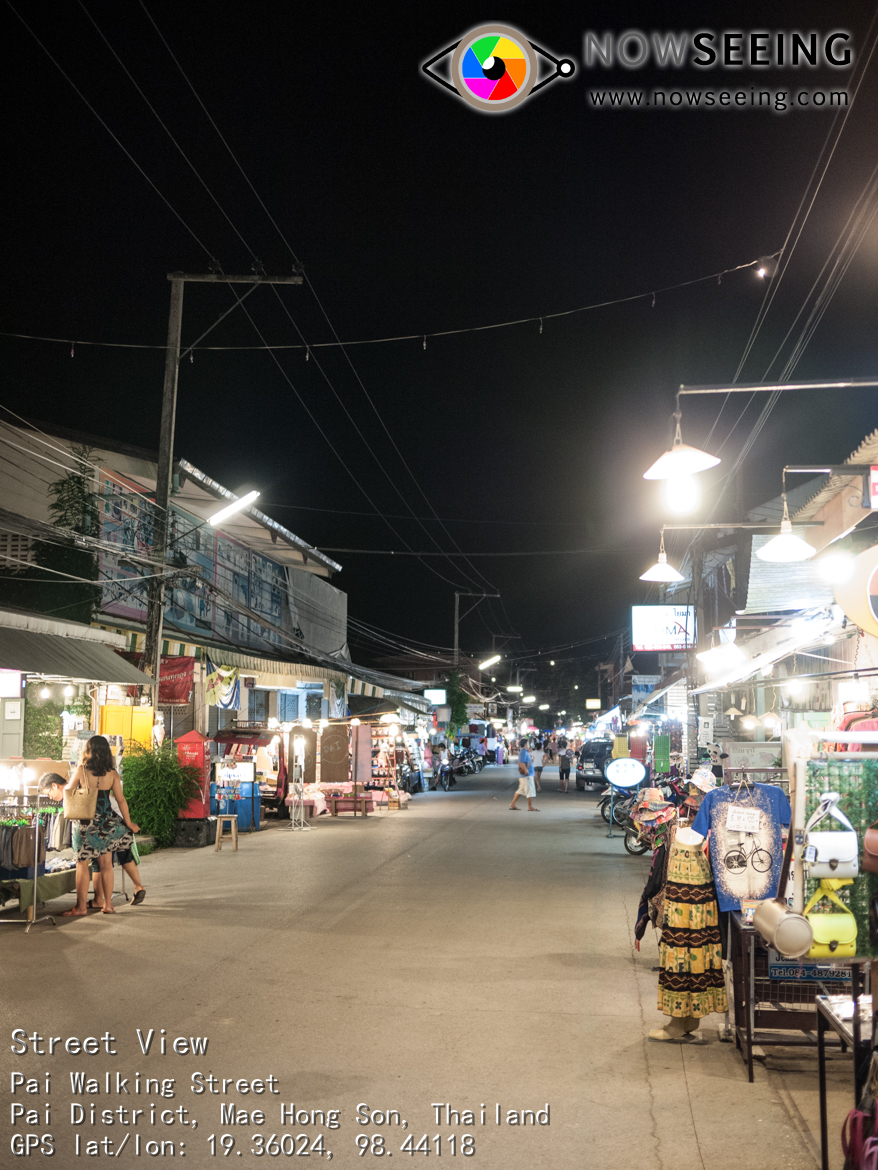 We were almost full after the dinner but still, we planned to have some snacks at walking street before calling it a day. If you happened to be at Pai on Friday evening, be sure to visit their walking street and start buying things you like. There were more stalls on Friday than Saturday. We believed that some merchants had traveled down to Chiang Mai on Saturday for bigger night market. So, make your purchase on or before Friday if possible.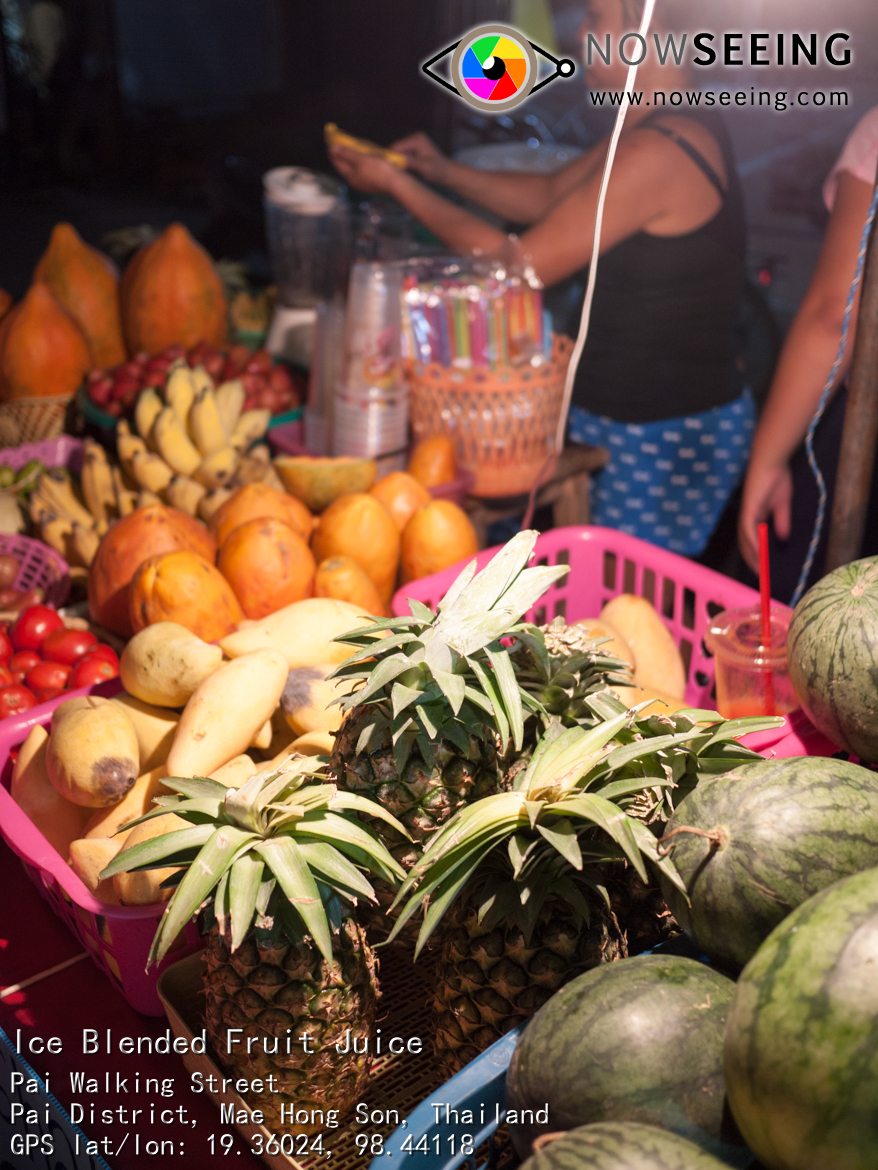 Under hot and dry weather  fruit juice is the best thing to buy at Pai walking street. It is also the cheapest ice-blended fruit juice we found for our trip.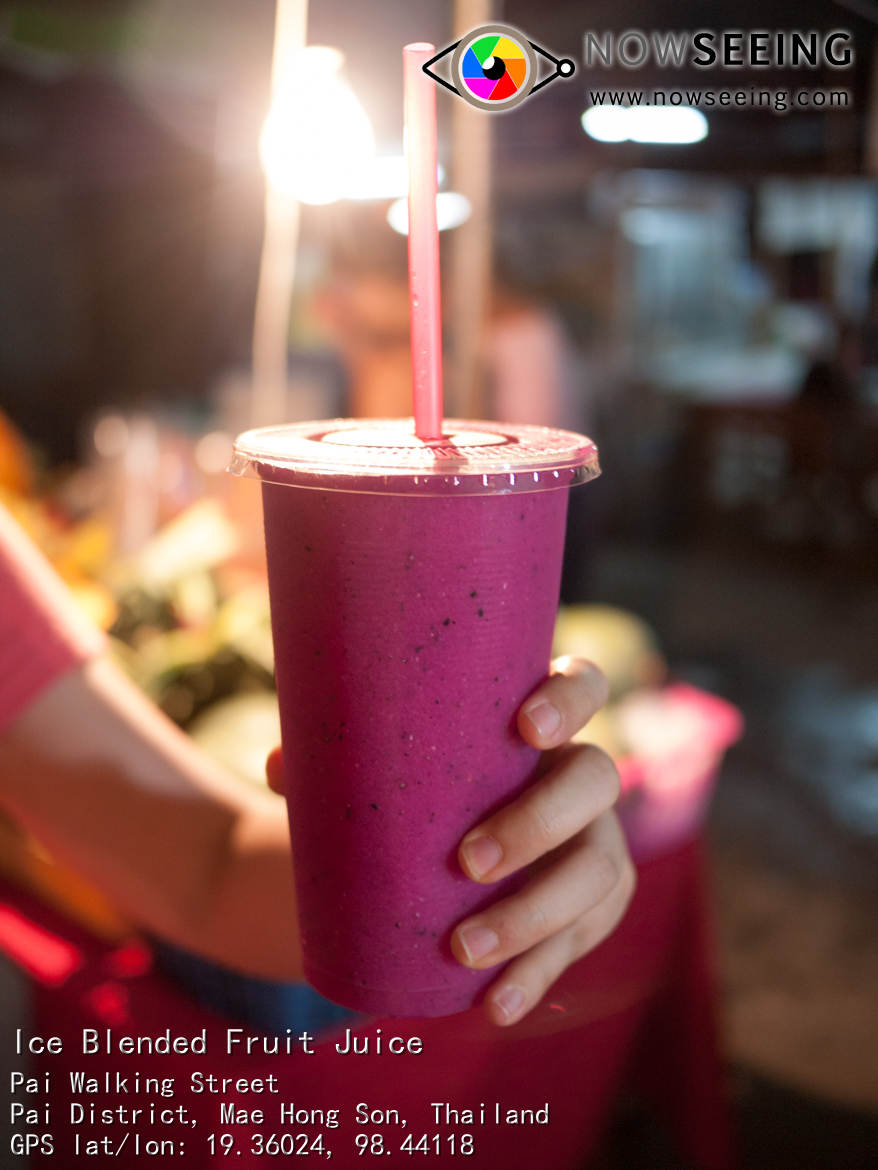 20 THB for single fruit and 30 THB for two fruits, all blended into big glass of juice.
There were many lovely stores along the walking street, including souvenir store, boutique, leather shop, and cafes.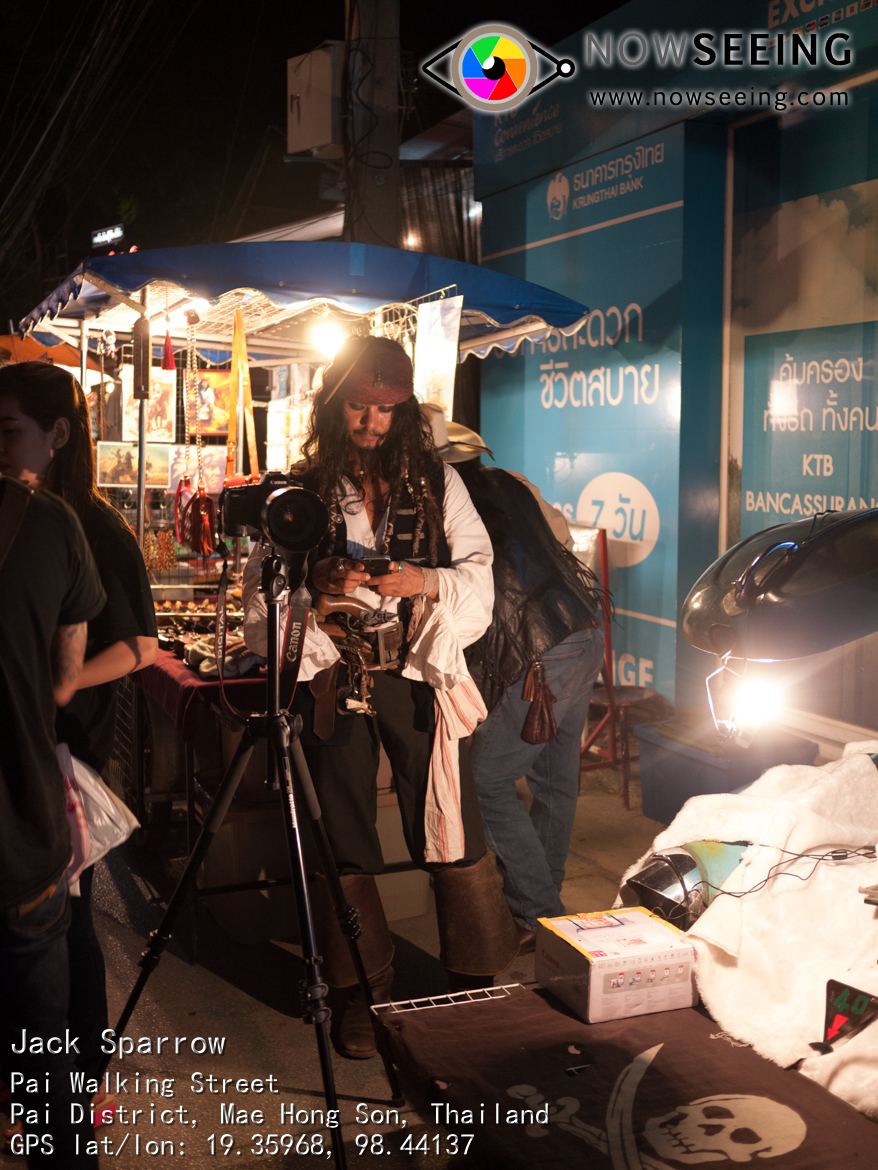 Also not to be missed was Jack Sparrow, who had his part time job at Pai as photographer.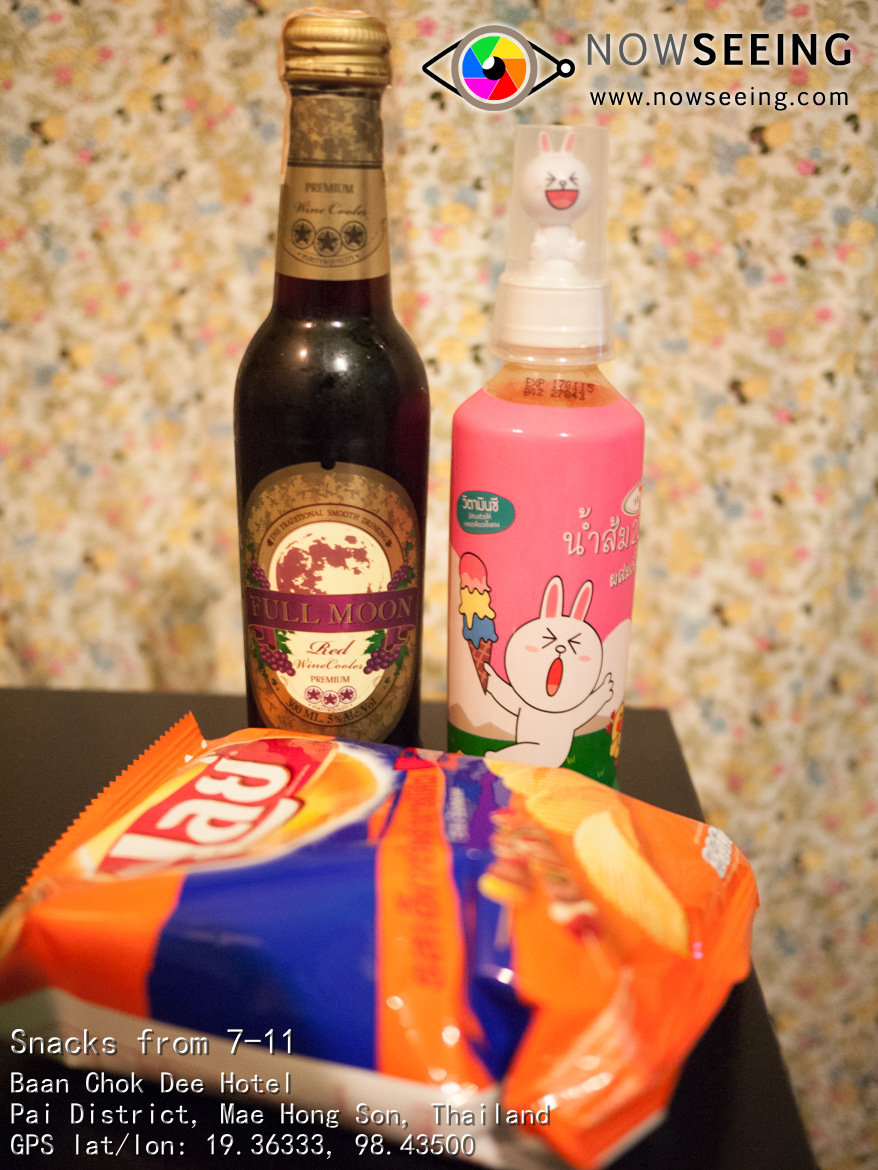 It was around 9:30pm and we had a small rain. We then drove our way back to our hotel and called it a day. Before that, we stopped by 7-11 which turned out to be our favorite shop during the trip for some Thai's snacks and beverages hardly found in Malaysia. For example, we had a bottle of local wine cooler, fruit juice with Line character toy, and Lay's potato chips that night.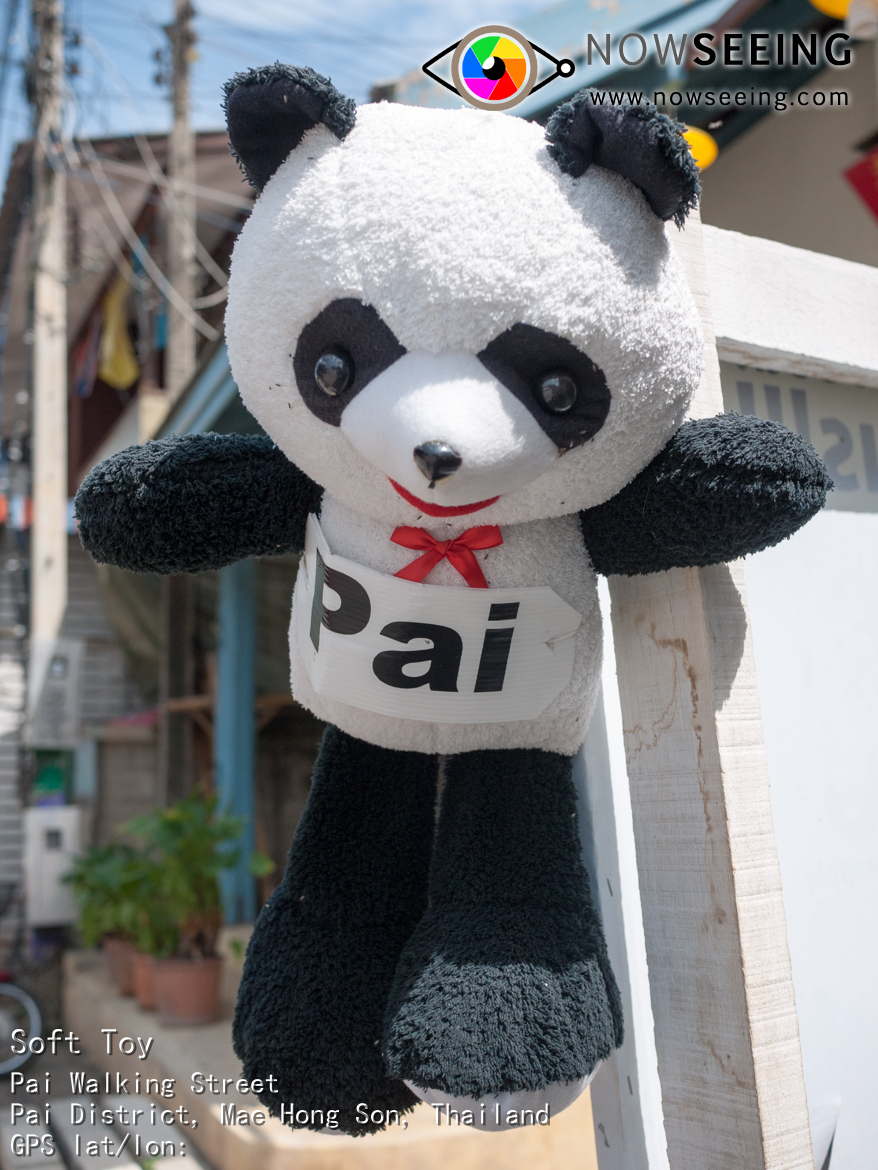 Day 2 Summary:
The 762 curves to Pai are not that scary
Pai weather is hot and dry in the middle of the year
If possible, get a scooter in Pai and travel around
Santichon 山地村 and Yun Lai Viewpoint 云来观景点 worth going 
Visit Pai walking street in the evening and start making purchase before Saturday
If you like our articles, kindly like our Facebook page at:
https://www.facebook.com/nowseeing/
To jump to any Chiang Mai post, click on one of the links below:
Day 1 - Kuala Lumpur to Chiang Mai old city
Day 2 - Chiang Mai to Pai
Day 4 - Pai to Chiang Mai Sunday Night Market
Day 6/7 - A day in Doi Suthep, Art in Paradise and Goodbye